Veteran, challenger talk reform in Democratic primary for commonwealth's attorney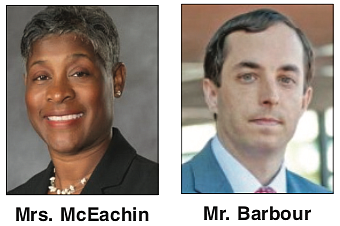 Criminal justice reform is the common theme of the two Democrats competing to be Richmond's chief prosecutor, or commonwealth's attorney.
But their approaches are as different as their ages.
Colette W. McEachin, 65, a 25-year veteran of the city prosecutor's office who has held the top post since 2019, is calling for modest reforms, such as a pilot mediation program for juvenile offenders and increased student education on the law in pitching for a four-year term.
Her challenger, Thomas P. "Tom" Barbour Jr., 36, a former Marine captain and defense lawyer, wants to really shake things up.
In his view, the office should focus on prosecuting those charged with murder, rape and other violent offenses while seeking to divert the lion's share of those charged with lesser crimes to community programs to help them address the challenges that got them in trouble. He also wants civic leaders to be more engaged in decision-making.
Now it is up to Richmond voters to decide whether to keep Mrs. McEachin in office or replace her with Mr. Barbour, who worked briefly as an assistant commonwealth's attorney before opening his own law practice.
Voters will make that decision in the June 8 Democratic primary, with the winner essentially gaining the $200,000-a-year post. So far, no Republican or independent challengers have filed to run in the Nov. 2 general election to contest the Democratic nominee.
Mrs. McEachin, the wife of 4th District Congressman A. Donald McEachin, is proud of the role her office has played in pushing change.
"Richmond has been a leader in progressive justice reform," she said, ticking off a list that includes efforts to enable a majority of people charged with crimes to be released without having to post bond; to help establish special courts that divert addicts and the mentally ill from jail; and to provide assistance to victims of crime.
Mrs. McEachin, who won a special election in November 2019 to finish the term of former Commonwealth's Attorney Michael N. Herring after he left in July 2019, said that if elected to a full, four- year term, she would continue the work of her predecessors.
She already has set up a Community Justice Reform Unit to advocate for change in the office, but she also is cautious. In her view, her office is involved in a balancing act in which victims and public safety must be considered along with offering consideration for defendants.
She also plans to offer an educational program to high school students called "Law 101" that would advise students of their legal rights and teach them the basics of the workings of the criminal justice system.
She also wants to pilot mediation or a restorative justice program for the Richmond Juvenile and Domestic Relations District Court that would allow victims and non-violent perpetrators to settle their differences and agree on a program of restitution to promote responsibility and limit detention.
Mrs. McEachin also has sought to be responsive to community concerns and, when needed, to charge police officers when she believes there is evidence to show they have broken the law.
However, Mrs. McEachin doesn't see the urgency for the complete overhaul being advocated by Mr. Barbour.
Mr. Barbour criticizes her for assembling a largely white staff of young lawyers. He has pledged to assign a staff member to lead a push to beef up the number of lawyers of color who make up the 40-member legal staff.
He also wants to revamp the office into teams that each would focus on the cases coming out of a particular section of the city. He wants the teams to work with community leaders from those areas who would serve as advisers to educate the staff on the problems people face and to consider other ways than court to address them.
Mr. Barbour said that as part of the people-focused approach he would adopt if elected commonwealth's attorney, he would add social workers and possibly psychologists to interview people charged with crimes to find out the challenges they are facing and then seek to team with nonprofit social service providers to work with defendants to address their situations.
Even while running for the office, Mr. Barbour has launched the Virginia Holistic Justice Initiative that is testing his approach.
He cites the case of a petty drug dealer that Mrs. McEachin's office wanted to send to prison. Instead, Mr. Barbour said he persuaded the judge to allow the individual to enter addiction treatment and get help finding a job. He said it not only turned the individual's life around but improved public safety overall.
He said resolving the root causes that bring people into court is the best way to make the community safer.