Former Gov. A. Linwood Holton, a Republican whose actions helped break down racial barriers in the state, succumbs at 98
11/4/2021, 6 p.m.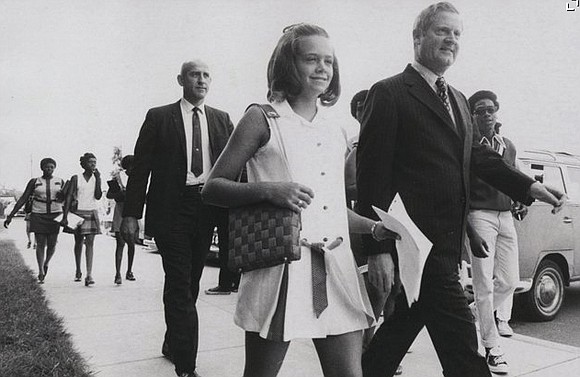 When a federal court in 1970 ordered Richmond students to be bused to integrate public schools, new Virginia Gov. A. Linwood "Lin" Holton Jr. showed his support by enrolling his four children and having them attend majority-Black schools.
In a now famous photograph, Gov. Holton, a Republican, is seen escorting his 13-year-old daughter, Tayloe, to her first day of class at predominantly Black John F. Kennedy High School in the East End. Today, that daughter is a physician in Syracuse, N.Y.
Among his accomplishments as the state's chief executive, Gov. Holton also insisted on hiring a diverse staff, becoming possibly the first governor to integrate the office. He also ensured that Black people and women had increased opportunity to be hired for state positions.
He is credited with launching the Governor's School initiative to boost opportunities for talented and gifted students, creating a network of community mental health services and helping to get environmental regulation off the ground. Known as a down-to-earth, straight shooter who kept his promises, Mr. Holton was lauded for his efforts to bring reform to the state, particularly in race relations. He is being remembered following his death on Thursday, Oct. 28, at his residence in Kilmarnock in the Northern Neck. He was 98.
In a joint statement, his four children focused on his role in matters regarding race, noting that "he walked (and bused) us to integrated public schools to show the world the way of justice.
"When others balked at tearing down the barriers to employment and opportunities, dad led the charge in hiring a staff that represented all Virginians."
Born in Big Stone Gap in Southwest Virginia where his father ran a coal-hauling railroad, Gov. Holton served as a submarine captain in the Navy during World War II, and continued his service in the Navy Reserve for two decades later while practicing law in Roanoke.
At a time when segregationist Democrats held sway and the Republican Party was so small it could, as one analyst put it, "fit into a telephone booth," he gained attention for his work in rebuilding the opposition party to battle the political machine of Democratic Sen. Harry F. Byrd Sr.
By 1965, Gov. Holton, then 42, was known well enough to secure the GOP nomination for governor, earning name recognition statewide. He lost the race, however, to Democrat Mills E. Godwin Jr., a key lieutenant of Sen. Byrd.
Four years later in 1969, Gov. Holton was back. And with support from the Richmond Crusade for Voters and newly empowered Black voters, he won an outright majority in Virginia to defeat Democrat William C. Battle, the son of a former governor, and two independent candidates for governor.
He was the first Republican elected to the state's top post in 83 years, breaking a string of 21 straight Democratic governors that dated to 1886.
While Sen. Byrd's political organization had collapsed after his death in 1966, Gov. Holton's victory was regarded as clear evidence that the machine would no longer dictate policy.
In their joint condolence statement, state Senate Republican Leader Thomas K. Norment of James City County and Senate Republican Caucus Chair Ryan T. McDougle of Hanover County described Gov. Holton's win as placing Virginia "at the leading edge of its southern neighbors" in two-party politics.
"It's a long way from Big Stone Gap to the Governor's Mansion, but (he) made that improbable journey and Virginia is the better for it," they wrote.
Although he remained influential in Republican politics, Gov. Holton's elective career ended after his four years as governor.
After serving a year in Washington as an assistant secretary of state for congressional relations, he returned to Richmond to practice law. He joined Thomas W. McCandlish in founding a business-focused law firm that still bears both their names, McCandlish Holton. The firm took on several major civil rights cases, most notably after Gov. Holton's son-in-law, Tim Kaine, a former Virginia governor and current U.S. senator, joined the firm.
While he supported Republican moderates, such as the late former U.S. Sen. John W. Warner, Gov. Holton found himself increasingly at odds with Republican Party leaders over their growing right-wing views. He supported a series of Democrats for statewide office, including Sen. Kaine, and former President Obama.
Sen. Kaine described Gov. Holton as "more than a father-in-law. He was my friend and my public service role model. His courageous efforts to end racial discrimination in Virginia, born out of a deep religious conviction about the equality of all God's children, made him a moral pillar for so many."
Gov. Ralph S. Northam ordered state flags lowered to half-staff until sunset Saturday, Nov. 27, and extolled his predecessor in a statement that noted Gov. Holton showed the state "how to embrace the future."
Survivors include Gov. Holton's wife of 68 years, Virginia "Jinks" Holton, a former CIA intelligence analyst whom he married in January 1953.
He also is survived by his four children, who have had their own substantial careers. Three became lawyers, including Sen. Kaine's wife, Anne B. Holton, a former Richmond judge, former Virginia secretary of education and former interim president of George Mason University, where she continues on the faculty; Abner L. "Woody" Holton III, the author of three books; Dwight Holton, a former interim attorney general in Oregon; and Dr. Tayloe H. Lufton, who practices family and internal medicine in New York.
Gov. Holton also is survived by 10 grandchildren.