With legislative control at stake, House of Delegates races take on more urgency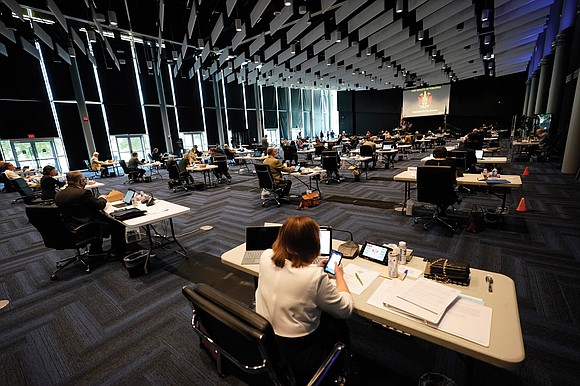 Can Democrats hold the Virginia House of Delegates after two years of control?
Will voters let them continue to implement a progressive agenda that is transforming health care, boosting pay for workers, making it easier to vote and ushering in criminal justice reform?
Those are the key questions voters will answer on Election Day, Tuesday, Nov. 2, as they choose representatives to fill all 100 seats in the Virginia House of Delegates.
Now in the majority, Democrats are trying to hang on to their 55-seat stronghold in the lower chamber of the General Assembly while Republicans seek to flip six seats to regain majority control.
A record 90 seats are being contested, with 22 rated as highly competitive, according to the political website Ballotpedia, including one in Richmond and two in suburban Henrico County.
In 2019, Democrats won numerous close races in what was seen as a backlash against then-President Trump. In 2021, Democrats now must defend at least 15 seats that were won by close margins two years ago.
Although turnout is expected to be modest, the results are likely to be viewed as one of the first significant tests of party strength in the post-Trump era ahead of next year's congressional elections.
The loss of the House in a state that has been trending Democratic blue in recent years would create political shockwaves, much as Republican losses in 2017 and 2019 did. In the past four years, Republicans suffered a net loss of 21 seats in Virginia, the most for any state legislative body in the country.
With the state Senate and governor's office in Democratic hands, Democratic House candidates have built what seems like an impressive people-helping record, ranging from expanding voting protections and raising the minimum wage for the lowest paid workers to abolishing the death penalty and capping the cost of insulin and other life-saving medicines.
They also have legalized marijuana, protected women's reproductive rights, boosted solar and wind power as energy sources, took steps to reform police and court sentencing practices, passed gun control and gun sale restriction laws and halted the suspension of drivers' licenses for those who simply owe money to state courts.
Republicans, who often opposed these initiatives, are hoping that more voters who agree with them will turn out for this election and hand the GOP a mandate to keep fighting against such reforms.
The GOP candidates have made the state's economic recovery and parental control of education key elements of their campaigns, while disparaging Democratic advances and promoting the suspicion of the legitimacy of Virginia elections.
Typical of Republican candidates, attorney Tim Anderson, who is running for a House seat to represent Virginia Beach, claims Democrats have created a "toxic environment" with their agenda, particularly by raising the minimum wage.
Democratic House Speaker Elaine Filler-Corn, who is completing her first term as the first woman to lead the House of Delegates, said Republicans want to roll back many of those reforms and will get the chance to do so should supporters of progress fail to go to the polls.
Political analyst Stephen Farnsworth regards the Democrats' recent success in elections as potentially transient.
"The key question," he said, "is whether traditionally Republican areas in the suburbs revert back to being Republican now that Mr. Trump is no longer president."