Personality: Monica L. Darden
Spotlight on honorary chair of the AKA Sorority's 15th Annual Sauté and Sizzle
10/21/2021, 6 a.m.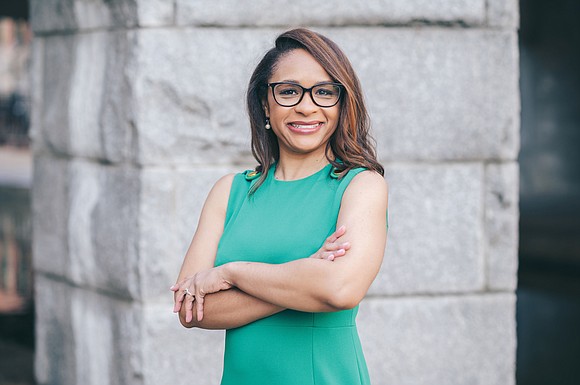 Things are getting a bit spicy as Monica L. Darden nears the end of the first year of her term as president of the Rho Eta Omega Chapter of Alpha Kappa Alpha Sorority.
Ms. Darden also is the honorary chair of the sorority's annual Sauté and Sizzle, a fundraiser with a salsa flair this year to benefit the sorority's scholarship and community programs.
The event will be held virtually this year because of the pandemic at 7:08 p.m. Saturday, Nov. 6, but it promises to be lively, Ms. Darden says.
As viewers watch and enjoy from home, professional chefs Jean Lorestil, Tye Hall and Big Herm (yes, of Big Herm's Kitchen) will have a cook-off, with the winner decided by the guests based on their presentation. The chefs are all based in Richmond.
There's no word yet on the dishes they will prepare, Ms. Darden says. It will be a surprise.
The evening will be hosted by actress Rashan Ali, who starred in the romantic comedy "Three Can Play That Game" and sprang to popularity on the talk show "Sister Circle," and comedian Winston Hodges.
Viewers also can enjoy salsa dance lessons by instructors Joycelyn and Greg Harris.
The evening also will feature a raffle of two in-home private dinners and an in-home private brunch prepared by local chefs.
The raffle tickets can be purchased from any member of the AKA's Rho Eta Omega Chapter, while the tickets for the benefit are $40; $45 for a "Guac & Salsa Box" that includes party favors.
"The committee has done a phenomenal job and an exciting night is planned," Ms. Darden says.
Her role, she says, is to make sure everything comes together.
"I just make sure that we're doing the right thing," Ms. Darden says, "making sure that we meet our mark, having a great event, putting on some- thing that's very worthwhile, and then we raise funds to put back into the community."
Already this year, the busy members of Rho Eta Omega held a walk to raise money for breast cancer survivors, something that personally impacts chapter members. The chapter also will be recognizing the contributions of caregivers in an upcoming event, Ms. Darden says.
Helping others is at the core of the sorority's mission.
"I believe in our mission of service to all mankind," Ms. Darden says. "I believe in volunteering and giving back."
The North Carolina na- tive joined Rho Eta Omega Chapter in 1988, after meeting and connecting with some members when she first moved to Chesterfield County. She became active in the chapter and served previously as vice president. Her term as president is two years.
Outside of her work with Rho Eta Omega, Ms. Darden is looking to further her education with another degree and possibly even starting another career.
For now, though, her focus is squarely on Rho Eta Omega. She hopes to use her time as president to make a difference.
"I would just want to leave our community in a better position," she says.
Meet a leader with flair and spice and this week's Personality, Monica L. Darden:
Occupation: Financial opera- tions director, Virginia Depart- ment for Aging and Rehabilita- tive Services.
No. 1 volunteer position: President, Rho Eta Omega Chapter of Alpha Kappa Alpha Soror- ity and honorary chair of the 15th Annual Sauté and Sizzle.
Date and place of birth: Sept. 30 in Winston-Salem, N.C.
Where I live now: Chesterfield County.
Education: Bachelor's in accounting, Elizabeth City State University.
Family: Husband, T.R. Darden, and three children ranging in age from 15 to 19.
Alpha Kappa Alpha Sorority is: The first Black Greek sorority; a 113-year old sisterhood! We were founded Jan. 15, 1908.
Number of AKA chapters: 1,026 chapters worldwide and approximately 300,000 members.
Mission of AKA: Alpha Kappa Alpha's mission is to cultivate and encourage high scholastic and ethical standards, to promote unity and friendship among college women, to study and alleviate problems concerning girls and women in order to improve their social stature, to maintain a progressive interest in college life and to be of "Service to All Mankind."
Upcoming event: 15th Annual Sauté & Sizzle on Saturday, Nov. 6, at 7:08 p.m., a benefit for our scholarship and community programs. Guests will experience this year's event virtually, but with a chef cook-off, salsa lesson, comedian and a DJ, there will be enough fun for the entire family.
Who's cooking this year: This year we have three professional chefs who will wow guests with their culinary prowess. The winner will be decided by guests based on presentation.
Who came up with the idea for Sauté & Sizzle: The idea originally was suggested by former chapter President Sadá Hill and member Karen Hicks.
What makes this year's event different: This year, we have added a salsa flair to the mix. Actress Rashan Ali will host the night along with comedian Winston Hodges. Salsa instructors Joycelyn and Greg Harris will share salsa tips and will get the crowd moving.
Planning committee's biggest challenge: Being innovative and keeping our guests engaged and excited to return each year. But like always, the committee has done a phenomenal job and an exciting night is planned.
How readers can participate: Tickets are $40 to view the program or $45 for the "Guac & Salsa Box," which includes favors. Tickets are available at https://tinyurl.com/REO2021SS or by emailing reofundraising@outlook.com. In addition, we are raffling two in-home private dinners and an in-home private brunch prepared by local chefs. Raffle tickets can be purchased from any member of Rho Eta Omega Chapter.
A perfect day for me: A cup of tea, sitting on the porch enjoy- ing the morning sun and time with family and friends.
What I am learning about myself during the pandemic: I am OK in the still of quiet.
Something I love to do that most people would never imagine: I love football, especially college football.
Quote that I am inspired by: What God has for me, is for me!
My friends describe me as: Funny, enthusiastic, analytical, hard-working, competitive, fun and always ready to grab something to eat!
At the top of my "to-do" list: Ensure all three of my children graduate from college.
Best late-night snack: Nectarine and golden kiwi.
Best thing my parents ever taught me: Never stop learning and be independent.
Person who influenced me the most: My mother. She always has an idea, always pursues it with passion and, of course, makes sure you know you are never too old to pursue and accomplish a goal.
Book that influenced me the most: "The Five Love Languages" by Gary Chapman.
What I'm reading now: "Feeding the Soul" by Tabitha Brown.
Next goal: I am interested in getting another degree soon to possibly start a second career. I'm currently considering which of my interests I will pursue.