Nearing finish line: Former President Obama brings last minute boost to Democrat Terry McAuliffe's gubernatorial campaign
Chip Lauterbach | 10/28/2021, 6 p.m.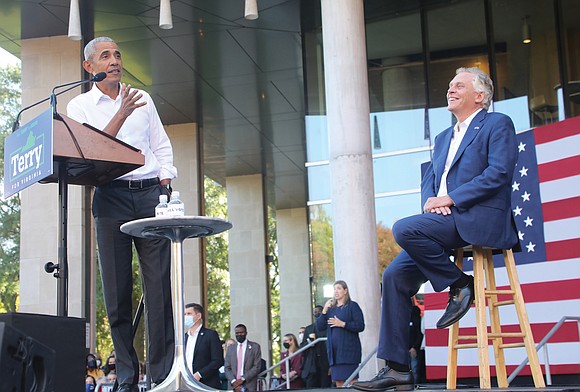 Former President Obama brought a welcome gift to Democrat Terry McAuliffe in his campaign for governor – a surge of energy ahead of Election Day next Tuesday, Nov. 2.
President Obama campaigned last Saturday with Mr. McAuliffe and the statewide Democratic ticket before a cheering crowd of nearly 3,000 people outside the James Branch Cabell Library on Virginia Commonwealth University's campus.
President Obama called Mr. McAuliffe, who served as Virginia's governor from 2014 to 2018, the right man for the job because of the many successes of his first term.
"With Terry, you don't have to wonder what he's going to be like as governor because you've seen it," President Obama said. "He walked the walk. He didn't just talk the talk."
He also gave a ringing endorsement to the two other Democrats on the statewide ticket, Delegate Hala S. Ayala for lieutenant governor and Attorney General Mark R. Herring for re-election to a third term, and for the party's candidates for the House of Delegates.
President Obama pumped up a crowd that clearly was eager to see him, with people shouting, "I love you!" to the former president. "I love you, too!" he shouted back.
The crowd began to boo as President Obama said that Mr. McAuliffe's opponent, Republican Glenn Youngkin, is seeking to win by signaling support for former President Trump's claims about fraud in the 2020 presidential election.
"Don't boo," President Obama told the crowd. "Vote. Booing doesn't do anything. Booing might make you feel better, but it's not going to get Terry elected. Vote!"
Recent polls show the governor's race to be a dead heat between Mr. McAuliffe and Mr. Youngkin, a former co-chief executive officer of the Carlyle Group investment firm and a political neophyte.
Polls released in the past seven days show that voter support for Mr. Youngkin is now even with Mr. McAuliffe, who had been the front-runner at the start.
A Monmouth University poll, for example, found each candidate was supported by 46 percent of the electorate, a change from the university's September poll that indicated Mr. McAuliffe had a 5 percentage point lead.
President Obama is among a series of Democratic heavy-hitters who have come to Virginia to stump for Mr. McAuliffe in an attempt to boost Democratic turnout during early voting and on Election Day.
In addition to President Obama, President Biden appeared at an event with Mr. McAuliffe earlier this week in Arlington.
Vice President Kamala Harris, who appeared Oct. 21 at a rally with Mr. McAuliffe in Prince William County, is to return this Friday, Oct. 29, with Virginia Beach native and music mogul Pharrell Williams at a rally with Mr. McAuliffe in Norfolk.
First Lady Jill Biden was in Richmond with Mr. McAuliffe on Oct. 15, and Atlanta Mayor Keisha Lance Bottoms appeared on Mr. McAuliffe's behalf in Richmond on Oct. 17. Additionally, voting rights advocate Stacey Abrams of Georgia joined Mr. McAuliffe at events in Norfolk, Northern Virginia and Charlottesville.
Other speakers joined President Obama to highlight the importance of the election, with key officeholders taking to the podium in a show of unity. Among the speakers were U.S. Sen. Tim Kaine, Gov. Ralph S. Northam, Speaker of the House Eileen Filler-Corn and Richmond Mayor Levar M. Stoney.
Mr. McAuliffe, who is seeking to become only the second former governor since 1865 to win a second term, also took to the stage to push his message that his election will keep the ball of progress rolling.
While he pledged to work with Republicans, he also described Mr. Youngkin and other Trump supporters in the Republican Party as the embodiment of what is wrong with Virginia politics.
"It doesn't matter to me what your party persuasion is. If you're a reasonable Republican, you'll work with me on these things, I'll work with you," Mr. McAuliffe said. "Glenn Youngkin is not a reasonable Republican."
Each speaker, including President Obama, expressed concern over the direction the GOP would take Virginia and warned that the GOP threatens to roll back voting rights, abortion rights and LGBTQ rights, including same-sex marriage.
They also talked about a recent pro-Youngkin "Take Back Virginia" rally in Henrico County in which his supporters pledged allegiance to an American flag that Trump supporters carried during the Jan. 6 insurrection on the U.S. Capitol.
"You can't run ads telling me you are a regular old hoops-playing, dish-washing, fleece-wearing guy, but quietly cultivate support from those who seek to tear down our democracy," President Obama said of Mr. Youngkin.
Mr. Youngkin did not appear at the Oct. 13 event where the Jan. 6 flag was used and at which Mr. Trump telephoned in to endorse Mr. Youngkin. Asked later, Mr. Youngkin said, "It is weird and wrong to pledge allegiance to a flag connected to Jan. 6. As I have said many times before, the violence that occurred on January 6 was sickening and wrong."
President Obama, though, said the message Mr. Youngkin is sending to voters is that he either "believes in the same con- spiracy theories that resulted" in the Jan. 6 mob riot in which five people died, including a U.S. Capitol police officer, or he "doesn't believe it but he's willing to go along with it, to say or do anything to get elected."
The latter, President Obama said, could be worse because "it says something about character. And character will end up showing when you actually are in office."
As part of their remarks, the Democratic leaders hailed the progress that has taken place across the state since gaining control of the Executive Mansion and the General Assembly. And they urged a big turnout to keep Democrats in charge in the 100-seat House of Delegates.
Democrats now hold 55 House seats to 45 for the GOP. The chamber would flip from Democratic blue to Republican red with the flip of only six seats.
"The entire nation is looking at Virginia, and we have to tell them and show them where we need to go next," said Delegate Ayala, who would be the first woman to gain the state's No. 2 post if she wins. "It is incumbent upon us to lead our country in the direction of progress."