Funeral service Sept. 21 for Dr. Clifton Whitaker Jr., pastor emeritus of Grayland Baptist Church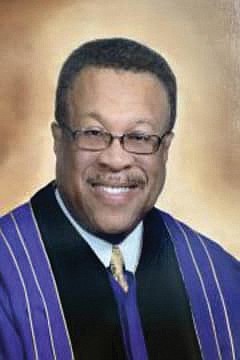 Dr. Clifton Whitaker Jr. set out to be a career Richmond police officer, but injury after 17 years on the force opened the door to a new career in ministry.
The first Black police detective in his hometown, Dr. Whitaker became better known for his 33 years of spiritual leadership at Grayland Baptist Church in the Highland Park community in North Side.
Dr. Whitaker's role in Richmond ministry is being remembered following his death Friday, Sept. 10, 2021. His death was attributed to COVID-19 and underlying health challenges.
His life will be celebrated during a service Tuesday, Sept. 21, at Cedar Street Baptist Church of God, 2301 Cedar St. in Church Hill, and he will be interred in Riverview Cemetery in Richmond.
In advance of the service, Dr. Whitaker will lie in state at Grayland Baptist Church, 2301 3rd Ave., for a walk-through viewing from 3 to 7 p.m. Monday, Sept. 20, according to Scott's Funeral Home.
Known for his singing and preaching, the Richmond native earned plaudits for guiding the rebuilding of Grayland Baptist after its sanctuary burned down in 1996 and in developing a multipurpose fellowship hall in 2003 that allowed an expansion of programming for the 350-member congregation.
During his tenure as pastor, he was three times named Minister of the Year by the Ushers Union of Richmond and Vicinity.
Long active in ministry circles, Dr. Whitaker preached his final sermon March 29, 2015, at Grayland Baptist, which is now led by his son-in-law, Dr. Dexter Cannon, and his wife, the Rev. Gina W. Cannon, long an assistant pastor at Grayland.
The Virginia General Assembly passed a resolution commending Dr. Whitaker's ministerial service, which included serving as a volunteer chaplain to the Richmond Police force.
"He was a humanitarian who was for the people and served the people well," said his daughter Joy N. Whitaker-Thomas, who directs choirs at Bethlehem Baptist Church in Henrico County and at First Baptist Church- Centralia in Chesterfield County. "He was an honorable man who went from the streets of Richmond to the pulpit at Grayland."
A graduate of Armstrong High School, Dr. Whitaker started classes at Virginia Union University, but left to join the Richmond Police Department. After training and serving eight months in patrol, he jumped to detective in a major break with standard practice. During his years with the force, he was awarded the Excellence in Police Duty Medal and the Dale Carnegie Highest Achievement Award.
Forced to retire after he was injured, Dr. Whitaker returned to VUU to complete his undergraduate degree. While in school in 1979, he delivered his initial sermon and was licensed as a Baptist minister.
After earning his bachelor's degree, he enrolled in VUU's seminary where he earned both master's and doctoral degrees in ministry. Dr. Whitaker received the call to Grayland Baptist's pulpit in 1982 while still in the seminary.
"They took a chance when they hired me," he said in a Free Press interview before he retired. "I was still a student in the Samuel DeWitt Proctor School of Theology at Virginia Union University. I had never pastored anywhere else before."
Dr. Whitaker was a past president of the National Christian Education Convention and of the Baptist General Convention of Virginia's Division of Clergy. He also was a former dean of the Richmond Virginia Seminary and belonged to the Baptist Ministers' Conference of Richmond and Vicinity, the Richmond Ministers' Union and the Richmond Committee of Ecumenical Clergy.
He also served on the board of the Bethlehem Senior Center and was a member of Engine Company No. 9 and Associates, which honors Richmond's first Black firefighters and police officers.
Survivors include his wife of 58 years, Dolores W. Whitaker; four daughters, Rev. Cannon, Mrs. Whitaker-Thomas, Jacquelin L. Whitaker-Miller and Terry Jackson; two sisters, Beverly Whitaker-Cleveland and Joyce Whitaker-Campbell; six grandchildren; and one great-grandchild.