Portsmouth lawmaker led successful ouster of Filler-Corn; seeks to replace her as House minority leader
4/28/2022, 6 p.m.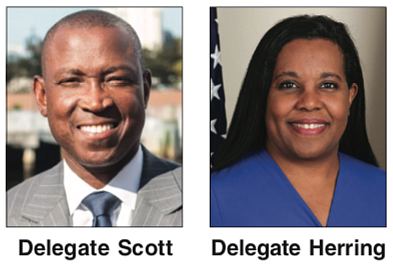 Delegate Don L. "Scotty" Scott Jr. of Portsmouth, an attorney and former Navy officer who once served time in prison, took a first step to becoming the Democratic leader in the House of Delegates.
He led a revolt that resulted in the ouster Wednesday of current Minority Leader Eileen R. Filler-Corn of Fairfax, who previously served as Virginia's first female speaker of the House of Delegates.
Members of the House Democratic Caucus met behind closed doors, and Delegate Filler-Corn lost her leadership post on a 25-22 vote. The decision came months after the November 2021 elections that saw the party lose full control of the state government to Republicans.
Democratic delegates, however, voted to retain Delegate Charniele L. Herring of Alexandria, a 13-year House veteran, in the No. 2 post of Democratic Caucus leader.
She, like Delegate Scott, is a member of the Virginia Legislative Black Caucus.
Fairfax Delegate Mark D. Sickles later disclosed the vote count. He also told reporters that the caucus did not immediately elect Delegate Filler-Corn's replacement in order to provide interested members an opportunity to be considered.
He said the caucus is expected to vote for a new leader when members of the House reconvene at a future date.
Given the initial secrecy, Henrico Delegate Lamont Bagby, chair of the VLBC, declined immediate comment.
Delegate Scott emerged as a candidate after he began calling on his fellow members to replace Delegate Filler-Corn, also the first Jewish person to hold the leadership post. On Sunday, Delegate Scott resigned his caucus post, vice chair for outreach, and urged the caucus to hold a leadership vote during Wednesday's session to con- sider Gov. Glenn A. Youngkin's vetoes of legislation.
He also put himself forward as a candidate and nominated Delegates Sally L. Hudson of Charlottesville and Daniel I. Helmer of Fairfax to serve with him.
After Democrats gained a 55-seat majority in the House of Delegates in November 2019 for the first time in years, Delegate Filler-Corn, an attorney and 10- year House veteran, won the job of leading the Democrats in bringing unprecedented change.
But Republicans roared back in the November 2021 elections to win 52 seats in the House, along with the top three state offices. Concern began circulating about Delegate Filler-Corn and her ability to lead the party back to a majority.
Delegate Scott would bring an array of experiences to the post if Democrats elect him.
Born into a Houston family of six children, Delegate Scott appeared to be on the fast track. He graduated from Texas A&M University and then, after his military service, earned a law degree from Louisiana State University Law School.
His prospects appeared to sour after his arrest in 1994 on federal drug charges. But he began bouncing back after his release seven years later.
By 2015, he was able to gain admission to the Virginia State Bar and open a general law practice in criminal defense, family law and civil litigation.
Four years later, he jumped into the Portsmouth House race to succeed Delegate Matthew James, who stepped down to accept Gov. Ralph S. Northam's appointment to an executive post as deputy director of the state Department of General Services.
While much of Delegate Scott's legislation has languished in committee, he drew public attention when he successfully defended state Sen. Louise Lucas against criminal charges stemming from the toppling of a Confederate statue in Portsmouth that left one person injured.