'The Lioness' gets her prey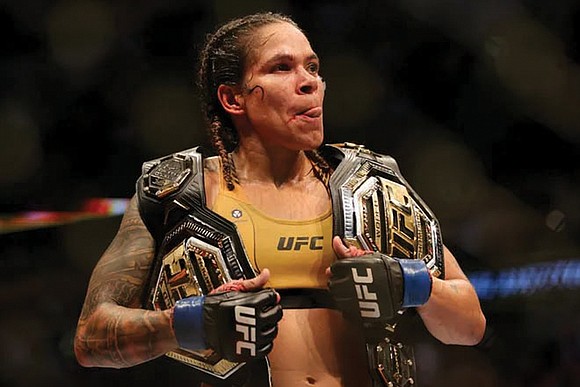 Amanda Nunes had revenge in her corner and that, combined with her flying fists and feet, was enough to regain her UFC bantamweight belt.
Known as "The Lioness," the 34-year-old Brazilian won a dominant decision (50-45, 50-44, 50-43 on judges' cards) over Julianna Pena July 30 in Dallas.
Pena, the "Venezuelan Vixen," had stunned the MMA world Dec. 11, 2021 by upsetting Nunes in Las Vegas.
"The Lioness, if she doesn't get her prey the first time, she sets a trap and gets it the second time," Nunes told the media.
Surpassing Ronda Rousey, Nunes is generally considered the greatest female MMA fighter in history, and the loss to Pena ranked with the most head-spinning upsets in the annals of the sport.
In front of a global pay-per-view audience at American Airlines Center, Nunes pounded her opponent unmercifully throughout the five rounds, dropping her on multiple occasions.
Pena was bloodied and badly beaten and taken to a plastic surgeon after the fight.
Nunes is the first openly lesbian champ in MMA history. Her wife, Nina Nunes, also is a MMA fighter.