Personality: Vanessa Evans
Spotlight on president of the Richmond Alumnae Chapter, Delta Sigma Theta Sorority, Inc.
8/4/2022, 6 p.m.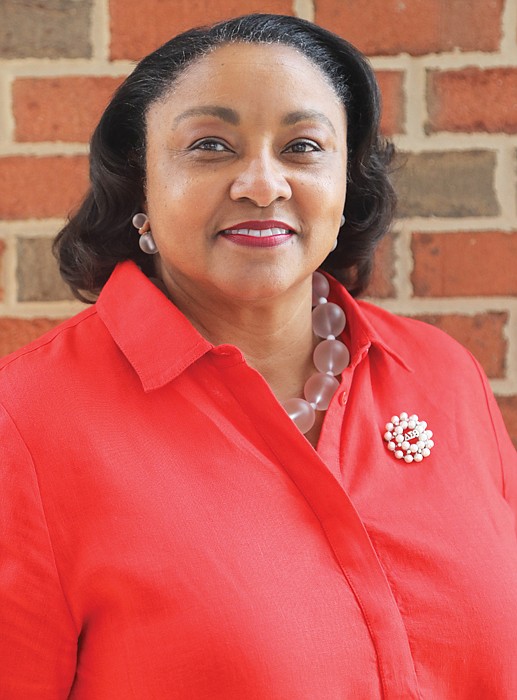 Sorority life is a point of pride for Vanessa Evans.
The North Chesterfield resident joined Delta Sigma Theta Sorority in 1986 while enrolled at North Carolina Central University. Having no prior experience with sororities, she was "mesmerized" by the group's active role on the campus and in the larger community, which inspired her to become a member.
Founded in 1913, Delta Sigma Theta Sorority is an organization of college-educated women committed to the constructive development of its members and to public service with a primary focus on the Black community. As a private, not-for-profit organization, its purpose is to provide assistance and support through established programs in local communities throughout the world, according to the sorority's website. The sorority currently has 1,000 collegiate and alumnae chapters located in the United States, Canada, Japan (Tokyo and Okinawa), Germany, the Virgin Islands, Bermuda, the Bahamas, Jamaica, West Africa and the Republic of Korea.
Ms. Evans now leads the sorority's Richmond Alumnae Chapter in her second term as its president, the latest of many roles she's taken in the organization. And while her time as a leader began in the midst of once-in-a-lifetime circumstances, her enthusiasm for Delta Sigma Theta and the chapter's members remains unchanged.
"If you know me, you know I am passionate about my sorority, because I see the impact we have in the communities where we live, work and raise families," Ms. Evans says. "It has been a pleasure and a privilege to lead the amazing and hard-working women of the Richmond Alumnae Chapter."
Ms. Evans' first term as chapter president began two years ago, as Delta Sigma Theta adjusted its operations greatly in response to the spread of COVID-19 on the national and local level, while still trying to continue its mission of community service and improvement.
"I can't say what being a president is like without thinking of Zoom because that's all I have known for the past three years," Ms. Evans says. "I'm very excited about finding out. It will be a wonderful day when we can have our first meeting as a larger group."
Similar work is being done in the larger Delta Sigma Theta organization, which will host the sorority's 30th South Atlantic Regional Conference this week, Aug. 4 through 7, at the Greater Richmond Convention Center.
Ms. Evans cites the regional conference as a major undertaking not just for the Richmond chapter, but for other chapters that will participate.
Throughout all her responsibilities and goals for her term as president, Ms. Evans says she is thankful for the accomplishments of Delta Sigma Theta, its chapters and its members. Even with 36 years of experience as a member of the sorority, she remains impressed by the commitment of members to the sorority's mission, and she intends to do her part to ensure the Richmond chapter continues for years to come.
"I consider myself a servant leader, and I just want to push others forward and put them in the spotlight if I can," Ms. Evans says. "Everything that shines a light on the Richmond Alumnae Chapter doesn't come from me, it comes from the chapter and the hard work that they put in to make it seem as if the chapter president is doing such a great job."
"I just (want) to thank the Richmond Alumnae Chapter sorors for everything they have done."
Meet the leader of one of Richmond's premier sororities, Vanessa Evans:
Volunteer Position: President, Richmond Alumnae Chapter of Delta Sigma Theta Sorority.
Date and place of birth: Sept. 27 in Lumberton, N.C.
Where I live now: North Chesterfield.
Education: Bachelor's in business administration, North Carolina Central University.
Occupation: Customer management account manager with PepsiCo.
Family: Three siblings, seven nieces and nephews and lots of cousins, along with a host of Delta sisters.
Delta Sigma Theta Sorority is: A sisterhood. My commitment to sisterhood, scholarship, service and social action started in college with the Alpha Lambda Chapter, where I was also the chapter president. After graduation, I joined the Durham Alumnae Chapter where I learned how to work together in the name of Delta. After moving to Richmond, a city I have called home for 22 years, I joined Richmond Alumnae Chapter.
When and where founded: Delta Sigma Theta Sorority was founded in 1913 on the campus of Howard University in Washington, D.C.
Founders: There are 22 "illustrious" founders.
When Richmond Alumnae Chapter was chartered: Feb. 7, 1942.
Notable facts for Richmond and Delta Sigma Theta:
• Home to the South Atlantic Region's ninth Regional Director, Thelma Pettis.
• Home to the granddaughter of Founder Jimmie Bugg Middleton, the late Margaret "Peggy" Brazil.
• The birthplace of our 10th National President, Dorothy I. Height with a historic Delta marker in Dr. Height's honor that stands prominently in the Blackwell neighborhood where she was born.
Brief profile of chapter membership: The Richmond Alumnae Chapter currently has 425 members and the chapter's members have been Deltas from two years to 77 years. Members' professions range from corporate professionals, educators, doctors, health care providers, lawyers, authors, journalists and entrepreneurs.
When elected Richmond Alumnae Chapter president: June 2020; re-elected June 2022.
Number one goal or project as president: I believe the number one goal is actually two-fold: managing the business aspects of the chapter for successful operations and effectiveness, along with ensuring the needs of the members are met for positive sisterhood interaction.
How chapter participates in the community: We are a public service organization and, under the Five Point Programmatic Thrust of Economic Development, Educational Development, International Awareness and In- volvement, Physical and Mental Health and Political Awareness and Involvement, we provide meaningful community service and public service initiatives. Through our fundraising ef- forts, the chapter has awarded over $40,000 in scholarships in the past two years. We have several youth initiative programs (Delta Academy, Delta GEMS, EMBODI, the annual Laverne Morton Williams High Achievers, L. Rita Davis Oratorical Contest and Jabberwock Schol- arship program) to engage and enlighten youths who are in middle and high school.
Most important project: Along with the Beta Epsilon, Eta Tau and Rho Rho chapters, our most import project at this time is hosting a memorable and exciting regional conference. With love, care, time and dedication the conference co-coordinators, Kimberly Stevens and Danielle Stokes along with the hard-working committee chairs and members, are ready to welcome our guests to RVA.
Delta Sigma Theta Sorority's Regional Conference is: A carryover from 2020 when it was canceled due to the pandemic. The conference theme is "S.E.E.ing the 22 in You; A Vision of Excellence." The South Atlantic Regional Director, Dr. Patricia R. Johnson and our Regional Representative, Illana Jamison, will preside over the conference proceedings along with our National President and Chair of the National Board of Directors Elsie Cooke-Holmes. The regional conference service project is the Safe Harbor Emergency Response Fund.
Who attends: Members of the "Sensational" South Atlantic Region of Delta Sigma Theta, which is comprised of the states of North Carolina, South Carolina, Virginia and the country of Bermuda.
How I start the day: I start my day with the news around 5:30 a.m. and normally work begins around 7 a.m. with rich dark coffee and Splenda.
The three words that best describe me: Friendly, organized and passionate.
Best late-night snack: Buttered popcorn.
How I unwind: Watching a baking show although I don't bake.
What I have learned during the pandemic about myself: I really do not enjoy cooking.
Something I love to do that most people would never imagine: Drive in silence.
A quote that I am inspired by: "Whatever anybody says or does, assume positive intent." — Indra Nooyi
At the top of my "to-do" list is: Clean out my office so I can paint the walls.
The best thing my parents ever taught me: My mother taught me the power of education even though she did not have any formal education.
The person who influenced me the most: My brother, Elijah, who taught me that hard work never hurt anyone but laziness is a silent enemy.
Book that influenced me the most: "The Shack" by Wm. Paul Young.
What I'm reading now: "The Other Black Girl" by Zakiya Dalila Harris.
Next goal: My next Delta Sigma Theta goal is to move the Richmond Alumnae Chapter from the virtual status of the past two years into a safe in-person meeting model for the sisterhood and continue positive programs in the community.