BLCK Street sessions inspire entrepreneurs
Holly Rodriguez | 8/11/2022, 6 p.m.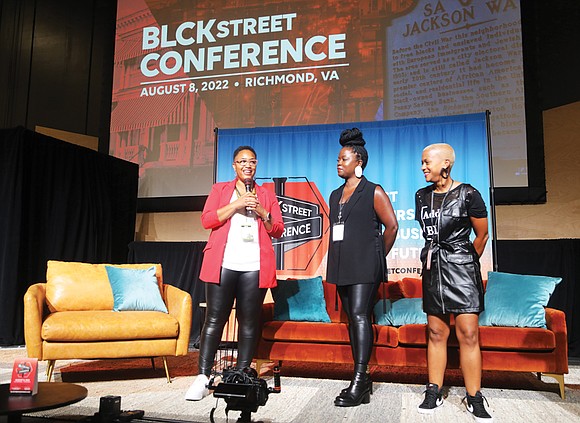 A common thread throughout the inaugural BLCK Street Conference earlier this week was encouragement and advice on everything from organizing finances to mentoring.
Organized by the Jackson Ward Collective, a member-based organization that provides Black businesses coaching, support and access to resources, the conference carried a positive vibe during the daylong session near Willow Lawn.
Dionne Hughes, owner of Image Enhancement Center of Richmond, shared how her humble beginnings in her grandparents' basement grew into a 30-year career in the cosmetology business.
Yet there were mistakes along the way, she noted in the session's "Learn" tract "Capital Access — Getting Started/Seed Funding."
A poignant example for Ms. Hughes was not understanding the importance of separating her personal and business finances.
"I nearly lost my home," she said, adding that she learned from her mistakes and eventually recovered. Building and maintaining relationships have helped her look beyond today and into the future of her business, she said.
Her current location at 00 E. Broad St. near Shockoe Bottom is where Ms. Hughes relocated after her landlord shared that her initial location would be leveled as part of a redevelopment project.
"These relationships are important," she said, referring to her landlord. "And it is important and a blessing to be able to share the highs and lows, offer insight into mistakes that I've made, and give back," she said about being a panelist for the conference.
Jackson Ward Collective founders Rasheeda Creighton, Kelli Lemon and Melody Short sponsored the BLCK conference, designed for attendees to learn, network and celebrate Black-owned businesses.
The women received thunderous applause and a standing ovation from hundreds of entrepreneurs from throughout the country on Monday during the conference.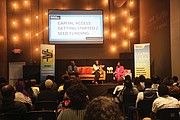 Ms. Short, a cofounder of the Richmond Night Market and other entrepreneurial ventures, mentioned the legacy of Richmond Black Wall Street in communities throughout the United States. Ms. Lemon, who owns Urban Hang Suite, a café near 3rd and Broad streets in downtown Richmond, reminded attendees about the conference's purpose.
"Be unapologetically Black today," Ms. Lemon said. ". . . This conference is for US."
Besides, the "Learn" tract, the conference also included "Grow," the tract for businesses ready to expand and "Own," for mature companies ready to own their own property or wind down their business. A networking session focused on hospitality, personal services, professional services and retail.
Luncheon speakers Julien and Kiersten Saunders, who are married and co-authors of "Cashing Out: Winning the Wealth Game by Walking Away" offered advice about investing, smart financing and marketing.
Much of the advice was the result of the husband-and-wife's personal experiences.
Ms. Saunders said when she learned that Black women lose $1 million in earnings over a lifetime because they make 63 cents for every dollar a white man makes, she was ready to leave the corporate world. She joined her husband in building their brand, rich & Regular.
Mr. Saunders encouraged people who are interested in becoming entrepreneurs to start with a "side hustle" that teaches others how to use skills they already have. Online courses are an example, he said.
"I would love to see a course teaching Boomers how to be comfortable with technology," he said. "It can be a brand, blog, or podcast. (The key) is to find something you are passionate about and pour your efforts into that."