Los Angeles high school basketball team's 4 players with famous dads
8/18/2022, 6 p.m.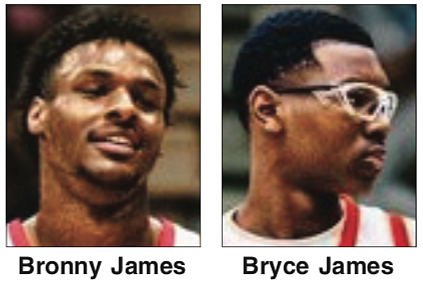 It would be notewor- thy for a high school basketball team to have one son of a famous NBA player.
But four?
Sierra Canyon School in the Chatsworth neighborhood of Los Angeles is so blessed.
The private school's roster includes Bronny and Bryce James, sons of LeBron James, plus Justin Pippen, son of Scottie Pippen, and Ashton Hardaway, son of Penny Hardaway.
• Bronny James, 17, is a 6-foot-3 senior shooting guard.
• Bryce James, 15, is a 6-foot-6 sophomore forward.
• Justin Pippen, 17, is a sub-6-foot junior guard.
• Ashton Hardaway, 17, is a 6-foot-8 junior wing.
LeBron James remains an active player with the Los Angeles
Lakers. Pippen is coach at Vanderbilt University while Hardaway is coach at the University of Memphis.
Nicknamed the Trailblazers, Sierra Canyon went 26-5 last season and won the Gold Coast League. This season's schedule includes an international excursion to London, Paris and Rome.