VSU hopes for a winning season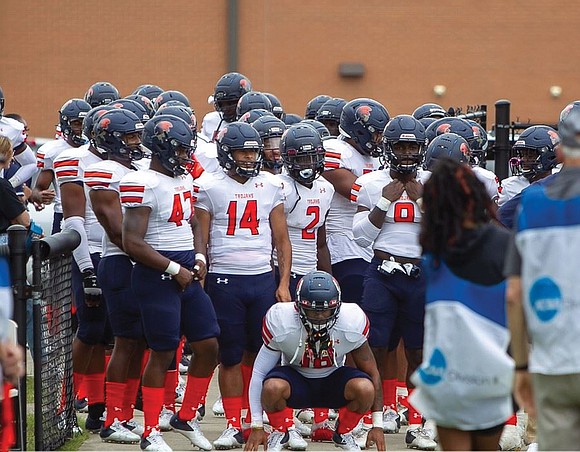 With football practices in full swing, Virginia State University is hopeful some of that Bowie State Bulldogs magic rubs off on the Trojans.
VSU's first season coach is Dr.Henry Frazier III, who was a top assistant at Bowie from 2017 to 2019. During that stretch, Bowie went 30-5 overall and 18-2 in CIAA. That included two CIAA titles and three trips to the NCAA Division II playoffs.
Perhaps no school in the nation has so dominated its conference as Bowie has the CIAA in recent seasons.
There was no 2020 CIAA season due to the pandemic. This past year Coach Frazier served as director of leadership and character at the University of Maryland.
Coach Frazier inherits a squad coming off a disappointing season. The Trojans were 3-6 overall and 3-4 in CIAA in what was Coach Reggie Barlow's final campaign in Ettrick.
Perhaps the highlight – if you can call a loss a highlight – of the Trojans' 2021 season was a thrilling 51-44 setback to Bowie in Maryland.
Under Coach Frazier (member of the Bowie Hall of Fame), the Trojans are preparing for the Sept. 3 opener at Lenoir-Rhyne University in Hickory, N.C.
It will be like diving into the deep end, in chilly water. The North Carolinians defeated VSU, 48-7, last year in Ettrick.
The home opener is Sept. 10 against Bluefield State, W.Va., where the Trojans will show off a freshly laid artificial field. Also, a new running track will surround the gridiron.
In that near upset of Bowie in October 2021, Darius Hagans rambled for 199 yards on 22 carries. Hagans is back this season, and much will depend on his ability to carry the ball and move the chains.
Hagans hails from Chesapeake's Grassfield High and transferred to VSU from Alderson-Broaddus, W.Va.
VSU's lone preseason All-CIAA pick is senior linebacker Zion Johnson from Woodbridge.
Coach Barlow used four QBs in 2021 (Chauncey Caldwell, D'Vonte Waller, Jordan Davis and Mark Wright) with none taking full command. This season's No. 1 for now is a question mark as no roster had been posted at press time.
One possibility might be Meziah Scott, a former Petersburg High 3A All-State QB who transferred to VSU from Western Carolina. Scott passed for 5,031 yards and 48 touchdowns at Petersburg, playing under his father, Wave Coach Michael Scott.
In the preseason CIAA team poll, VSU was picked to finish sixth overall and fourth in the North. So, who was picked No. 1? You guessed it, Bowie State.
Often, schools schedule "cupcakes" for homecoming to appease the alumni with a rousing victory. VSU can't be accused of such strategy. The Trojans will celebrate homecoming Oct. 8 against Bowie.
Rogers Stadium parking will be cashless only. Credit cards, debit cards and contactless payments will be required for parking.
Season tickets are on sale for $125, which includes parking. General admission game-day tickets are $20.
At least three VSU games will be telecast. The Sept. 17 game vs. St. Augustine's will be aired on HBCU Go. The Homecoming Oct. 8 contest vs. Bowie will be produced by PRC Communications and televised on Regional Networks and Trojans Sports Network.
The regular season finale Nov. 5 against Virginia Union also will be produced by PRC Communications.
VSU and VUU may think their traditional backyard brawl would be for the CIAA North title. There's only one problem: Bowie State.