The holidays are here
Highlights include RVA Illuminates, Christmas Parade, Soul Santa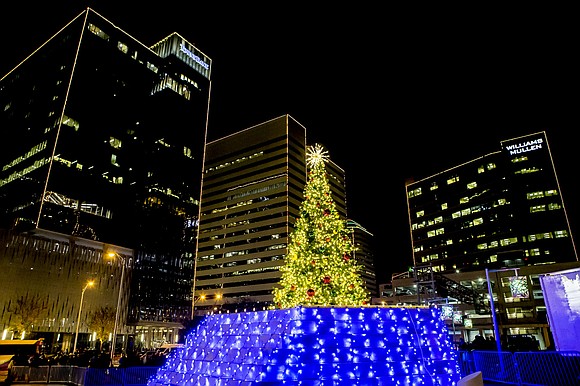 Richmond will officially kick off the holiday season this weekend with several popular events.
Topping the list: The 39th annual Christmas Parade, sponsored by Dominion Energy, which typically exceeds 50,000 in fair weather.
The regional parade is scheduled to run from 10 a.m. to noon Saturday, Dec. 3, moving east along 32 blocks of Broad Street between the Science Museum of Virginia and 7th Street.
Organizers have signed up 92 units – including bands, dance troupes, floats, oversized balloons and even people costumed as Star Wars characters—to escort Legendary Santa, with the Richmond Flying Squirrels' mascots Nutzy and Nutsha serving as grand marshals.
The holiday weekend will launch with RVA Illuminates on Friday, Dec. 2, the traditional ceremony to light up Downtown.
Gates will open at 4 p.m. at Kanawha Plaza, a city park bounded 7th, 9th, Cary and Canal streets, with the switch-on of the lights at 6 p.m. and a free showing at the park of the movie "Elf" set for 7 p.m.
Main Street Station also will host the 3rd Annual Christmas Under the Clock Tower with an open house at 7 p.m. Friday to showcase fir trees decorated by nonprofit organizations. The display of creativity will remain on view at the station, 1500 E. Main St., through New Year's Day.
Meanwhile, Shockoe Slip and Shockoe Bottom also will light up Friday, with carolers, food trucks and other activities at the 17th Street Farmers' market from 6 to10p.m.
In addition, RVA First Fridays will showcase art galleries and shops located between 2nd and Henry streets from 5 to 11 p.m. Friday.
Following the parade, Soul Santa will make his first appearance at the Black History Museum and Cultural Center of Virginia, 122 W. Leigh St., from noon to 4 p.m. Saturday. Soul Santa also will be at the museum from noon to 4 p.m. Saturday, Dec. 17.
People interested in having their children visit Santa can sign up online at Blackhistorymuseum.org.
Listings of holiday activities in Richmond and surrounds can be found at venturerichmond.com or at allevents.in/ Richmond/Christmas#.