Personality: Daniel Harthausen
Spotlight on HBO Max competition show winner
12/29/2022, 6 p.m.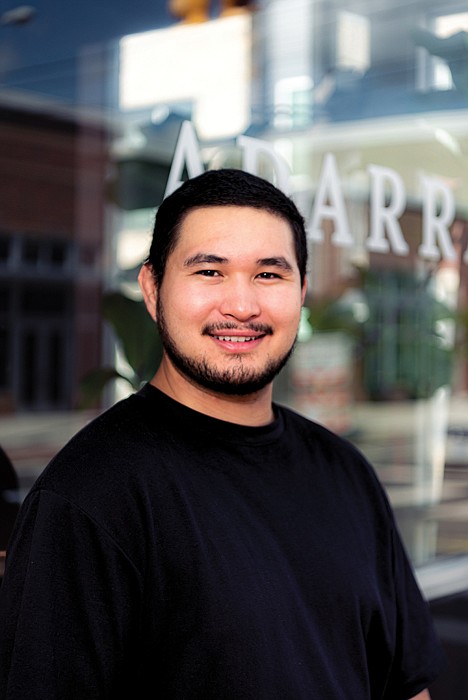 From pop-up food events to TV stardom and back, Daniel Harthausen is cooking up a unique culinary presence in Richmond.
His skills earned him a spot in 2020 on "The Big Brunch," a reality competition show on HBO Max which debuted Nov. 10. And (spoiler alert, if you haven't watched the show) he won the show's grand prize of $300,000.
"I felt that it was a huge validation not only for me but for anyone who's supported or helped me along my journey as a chef," says Mr. Harthausen, who has been cooking for about seven years and is largely self-taught. The series, created and hosted by Dan Levy, the Emmy-winning actor/producer of "Schitt's Creek," just completed its first eight-episode season.
Currently, Mr. Harthausen's cuisine is available through twice-monthly Young Mother pop-ups in Richmond, so named for his mom, who was 19 years old when he was born in South Korea. He would later discover he also has Japanese ancestry and had spent part of his youth in Japan.
"I think food isn't only a representation of culture and where we've been, but also where we are going," Mr. Harthausen says. "Finding connections in the world through people's relationship with food allows us to be closer as a whole."
Mr. Harthausen, 27, took an unconventional route to becoming a chef. After dropping out of college, he became a certified personal trainer/nutritionist. The meal plans he created for clients partially inspired his kitchen quest.
The road to his current career hasn't always been smooth. His first experience running a restaurant kitchen went so poorly that he nearly gave up on becoming a chef to seek other employment in the food service industry.
However, Mr. Harthausen would eventually rediscover his passion for cooking during the COVID-19 pandemic. He restarted his career as a chef and reassessed his future plans.
Armed with a Hollywood success story, more financial security and a greater sense for where his culinary skills can take him, Mr. Harthausen is more motivated than ever to carve out his own space in the food industry.
With his prize money and heightened public profile, he wants to open a brick-and-mortar restaurant in Richmond's Manchester area.
"Being around nine other chefs that were just as passionate about their mission gave me a boost of motivation to continue pursuing this career and to help people who want to make a difference," he says in reflecting on "The Big Brunch" competition.
As he told the judges on the show's final episode, "Once established we want to be able to roll out a (sic) incubation program to provide support and mentorship to aspiring chefs who want to showcase their cultures to our community through food.
"If I win, you'd be investing in me."
So far, the investment appears to be paying off.
Meet Richmond chef and this week's Personality , Daniel Harthausen:
Latest accomplishment: HBO Max's freshman season winner of "The Big Brunch."
Date and place of birth: April 30 in Seoul, South Korea.
What is HBO Max's "The Big Brunch?": The Big Brunch is a cooking competition centered around brunch highlighting 10 chefs who want to make a difference in their community!
How I was invited to participate on this reality cooking show: A casting producer reached out to me via Instagram; they commented on one of my posts (and said) they had an HBO opportunity (for me). After trading contact information, I went through about six different phone/ Zoom interviews before being accepted onto the show!
Thoughts about being on a reality show: I was a little nervous at first. I've heard reality TV can be notorious for not being the most positive environments, but when I got on the set, I could tell that this was a very different production and the crew and cast made me feel so comfortable.
Most anxious moment in the competition: Probably being in the bottom two in the fifth episode. I didn't know if I would be eliminated or not, and the waiting was really nerve-wracking.
How I felt when I was announced the winner: Pretty surreal, a flood of emotions and just so proud of myself.
How long I had to keep my winning a secret: I had to keep things a secret for about six months. During that time, I kind of forgot I was on the show since I couldn't talk about it, and I was just back into my normal life.
Finale winning creation: I did a full spread of katsu curry, chawanmushi (a savory Japanese custard dish), and sunomono (a vinegary cucumber salad).
Most memorable comments from the judges: Honestly when Dan Levy called me a "star," I was pretty happy.
I get my cooking inspiration from: Anything I've eaten. I'm a very visual/experience-based learner, so whenever I find something that is interesting for me I kind of obsess over it. A lot of these experiences happened as a kid just from the food I ate at home, so that's a huge base for my style of cooking.
My go-to dish to prepare: Fried rice for friends and family.
Ways to taste my culinary delights: You can find updates on our "Young Mother" pop-ups on Instagram @youngmotherva.
A quote that inspires me: To improve, you have to be okay with looking foolish.
My friends describe me as: Obsessive but in a productive way. If there's something I want to achieve with work I'll do anything to get there.
Best late-night snack: Shin ramen with frozen dumplings and rice cakes.
The best thing my parents ever taught me: How to make kimchi.
Book that influenced me the most and how: "AManWithout a Country" by Kurt Vonnegut. I like to think it initially inspired me to question the world in a way that was constructive. When I was struggling with my identity/future in college, I re-read this book and it gave me some clarity that I should figure out what I truly wanted to do. I believe if it wasn't for that book, I would never have become a chef.
What I'm reading now and my takeaway: Currently I'm reading "The Flavor Equation: The Science of Great Cooking Explained in More Than 100 Essential Recipes" by Nik Sharma. It's a great explanation of how we perceive flavors and how techniques in cooking can play with our senses. It's a really fun read to nerd out to if you love food.