All eyes will be on quarterbacks at College Football Playoff National Championship Jan. 10
1/6/2022, 6 p.m.
Since its inception in 2015, the College Football Playoff National Championship has been a shining showcase for quarterbacks.
This season's grand finale on Monday, Jan. 10, figures to offer more of the same.
The University of Alabama, 13-1, is led by Heisman Trophy winner Bryce Young, a 6-foot sophomore who was born in Philadelphia and grew up in Southern California.
Young has passed for 4,503 yards with 46 touchdowns and five interceptions. He is also a dangerous running threat.
The University of Georgia, 13-1, will counter with its quarterback, 5-foot-11 senior Stetson Bennett from Blackshear, Ga. Bennett has thrown for 2,638 yards with 27 touchdowns and just seven interceptions.
There hasn't been much need to put the ball in the air. With the exception of the loss to Alabama, most Georgia Bulldogs games have been start-to-finish blowouts.
Here's a glance in the rear-view mirror of the quarterbacks playing in the national championship before Young and Bennett.
2015 Ohio State 23, Oregon 16: Getting his chance due to injuries, third-string quarterback Cardale Jones led the Ohio State Buckeyes to victory. Jones never starred on the next level but did play for three NFL teams.
Jones' rival that night was the Oregon Ducks' Marcus Mariota, a Pacific Islander from Hawaii who won the 2014 Heisman Trophy and was the second overall NFL draft pick by the Tennessee Titans.
2016 Alabama 45, Clemson 40: Jake Coker was the winning quarterback for Alabama, but Clemson's Deshaun Watson was sensational, passing for 478 yards.
2017 Clemson 35, Alabama 31: Again, Watson was sensational in a battle with Crimson Tide quarterback Jalen Hurts. Watson became a first round pick of the NFL Houston Texans. Hurts is now the starting quarterback for the NFL Philadelphia Eagles.
2018 Alabama 26, Georgia 23: This was the coming out party for Pacific Islander Tua Tagovailoa. "Tua" came off the bench in the second half to spark victory. He became a first round NFL pick and is now a quarterback for the NFL Miami Dolphins.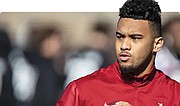 2019 Clemson 44, Alabama 16: Clemson's Trevor Lawrence out-duels Tagovailoa and becomes the overall No. 1 NFL draft pick in 2020 by the Jacksonville Jaguars.
2020 Louisiana State 42, Clemson 25: This time Lawrence comes up second best to LSU's Joe Burrow, the Heisman Trophy winner. Burrow became the NFL's overall top draft pick by the Cincinnati Bengals in 2020.
2021 Alabama 52, Ohio State 24: Alabama's Mac Jones and the Buckeyes' Justin Fields both become 2021 NFL first round draft picks, Jones by the New England Patriots and Fields by the Chicago Bears.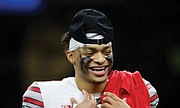 2022 Young is the first Alabama quarterback to win the Heisman Trophy and he's just warming up. The brilliant signal caller is just 20 and must spend another season in Tuscaloosa, Ala., to proceed to the NFL.
2023 The title game moves to SoFi Stadium in Inglewood, Calif. It would be an upset if Young's not back for a final curtain call before heading to the NFL.