Richmond, meet the Church Hill Academy Phantoms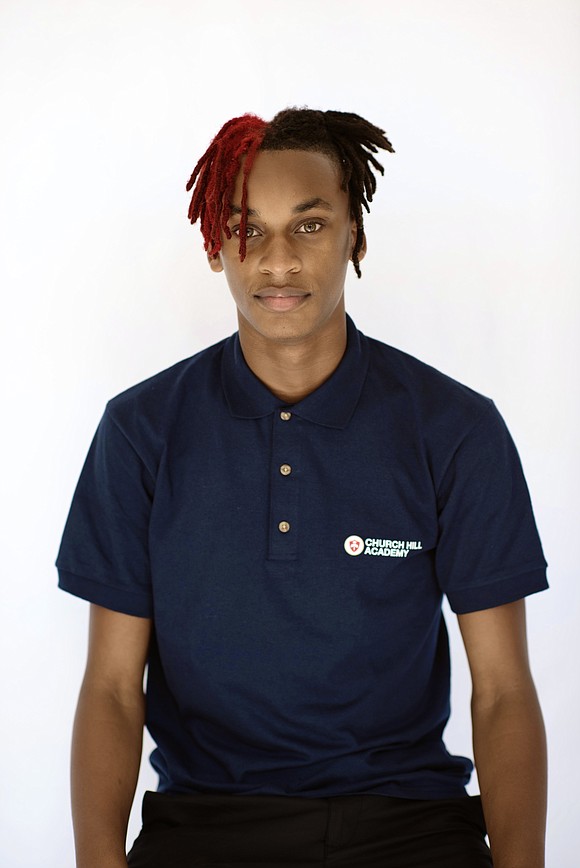 Introductions are long overdue. It's time for Richmond's high school basketball fans to meet the Phantoms.
"We're the best-kept secret in town," said Tim May, coach of the Church Hill Academy Phantoms.
Wearing red, white and blue uniforms, the Phantoms have been shooting hoops for six seasons under Coach May, a former Huguenot High School standout – Class of 2001 — under the late Coach Bo Jones Sr.
This fall and winter, the Phantoms have been the area's busiest squad, already with a 4-17 record as the new year starts. The record is subpar largely because Coach May has greatly upgraded the team's schedule to include numerous established public and private schools from around the area and the state.
Many of the defeats have been by razor-thin margins — 55- 53 to Richmond's Armstrong High School; 55-52 to Henrico's Deep Run High School; 50-49 to Douglas Freeman High School, also in Henrico.
Facing huge disadvantages in enrollment, the Phantoms have played King's Fork High School in Suffolk, Freeman High, L.C. Bird High School in Chesterfield, Armstrong and Deep Run from the public ranks and Fork Union Military, Woodberry Forest, Steward School and Trinity Episcopal School from the private sector.
The Phantoms already have competed in three notable prep events — the 804 Coaches for Change Challenge, Henrico High Holiday Hoops and at Highland Springs.
"It's not fun losing, but our schedule reflects a bigger picture. The Phantoms are a marketing tool for the school," Coach May said.
Phantoms Facts:
School location: 2010 Carlisle Ave. at the Carlisle Avenue Baptist Church campus in the East End.
Enrollment: 28 boys, 22 girls, grades 9 through 12; Church Sunday School classes used as classrooms. School is made up almost entirely of teens from Richmond's East End and Eastern Henrico County.
Cost: Current students paid no more than a $100 registration fee; in the future, the school plans to go with a sliding scale payment based on family need. There is a waiting list.
Affiliation: Church Hill Academy is under the auspices of Church Hill Activities and Tutoring, or CHAT.
Home court: Trinity Family Life Center, 3601 Dill Road in East Highland Park.
Conference: Virginia Independent Schools Athletic Association (VISAA), Division III.
Academics: Coach May reports an overall 3.2 GPA among his players. If a player receives less than a "C" on his report card, he can't dress for games until grades improve.
Star watch: The Phantoms headliner is 6-foot-4 senior James Patterson, who averages 26 points per game. Already, he has a scholarship offer from NCAA Division I Norfolk State University. "We've never had a player like James," Coach May said.
Another player drawing college attention is Le'Khi Eddins, a high-rising 6-foot-5 junior.
Looking ahead: Despite the losing record, the Phantoms will play mostly smaller schools similar to themselves during the January/ February stretch run. Coach May is confident his team will qualify for the VISAA playoffs and make a run at a "Phantastic Finish."
The nickname: Church Hill Academy inherited the name Phantoms from a rec league team that had competed in CHAT's after-school program. It is believed to be one of just two Virginia schools with that mascot, joining Hampton's Phoebus High School.
Church Hill Academy's nickname isn't to be confused with The Phantom comic strip, film and video games about a fictitious crime fighter from the fictitious African nation of Bangalla, although that's kind of cool, too.
2022 is here: Coach May's squad will play host to Cristo Rey Richmond High School at 5 p.m. Thursday, Jan. 6, and then travel Friday, Jan. 7, to face Collegiate School at 5:45 p.m.
The Phantoms have little time to loosen their laces and kick back. The team could play more than 30 games including postseason action.
The party's just starting.