Henrico's Andre McCallum Jr. shows why he's 'King of the Ring Jr."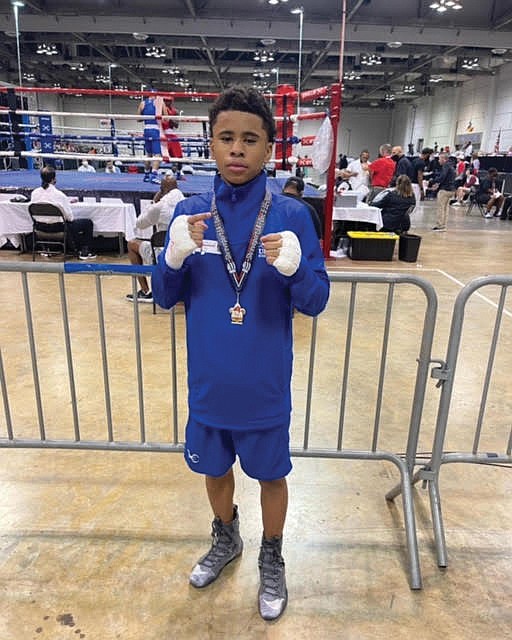 Andre McCallum Jr. is only 13 and already shares rights to the title of "King of the Ring Jr."
The eighth-grader at Hungary Creek Middle School in Western Henrico County has won so many national boxing titles that he can no longer count them all on one hand.
Andre recently added a sixth consecutive crown in the 13-14 age, 101-pound class at the USA Boxing National Championships in early December at the Shreveport Con- vention Center in Louisiana.
Boxers wore 10-ounce gloves for the 2-minute rounds. To grab the top prize, Andre defeated opponents from Colorado, Virginia, New York and California on consecu- tive days.
It was a single elimination event—lose and go home. Andre didn't go home until he was the last young man standing.
He'd won the nationals in the past as an 8-, 9-, 10-, 11- and 12-year-old.
Next year he plans to graduate to the 15-16 age group, even though he will be only 14.
Known as "Nino," (meaning "little boy" in Spanish) due to his mother Alivia's Latinx ancestry, the 5-foot-3 right-hander posted four straight victories by decision in Shreveport.
Asked what he enjoyed best about boxing, the youngster replied: "Winning. I love having my hand raised by the referee after winning a fight."
The winning doesn't come without a heavy workload. For starters, Andre trains regularly under his father, Andre McCallum Sr., at East End Boxing Club on Charles City Circle. Mr. McCallum is an American Income Life Insurance agency owner. Andre is a second-generation pugilist, following his dad.
"I had 10 amateur fights growing up in Toledo," Mr. McCallum said. "But I was from the streets and didn't have the backing to go very far. I've made sure my son has the backing."
Andre has been here, there and everywhere on his young boxing journey that started during his early elementary school years. His overall record is in the vicinity of 90-10.
Because there are no qualified sparring mates in the area in his age class, the McCallums travel frequently to Washington and Maryland for in-ring punching sessions. Andre also learns by observation, courtesy of YouTube.
"Nino's favorite all-time boxer is Sugar Ray Leonard," Mr. McCallum said. "He also watches Roy Jones a lot."
For such a young athlete, Andre packs a powerful punch of ambitions.
"I want to continue to build my skills and qualify for the 2028 Olympics—and come home with the gold," Andre said.
The 2028 Olympic Summer Games will be held in Los Angeles. What better place for a boxer to have his hand raised in victory.