School Board votes in new leaders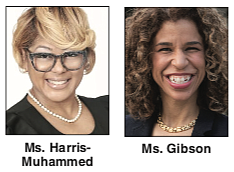 The Richmond School Board voted in a new chair and vice chair—Shonda Harris- Muhammed, 6th District, and Kenya J. Gibson, 3rd District, respectively.
They were nominated by board member Jonathan M. Young, 4th District and the board's outgoing vice chairman, at the School Board's first meeting of 2022 on Monday night.
Three board members voted against the new leadership team – Liz B. Doerr, 1st District; Cheryl L. Burke, 7th District, the outgoing chair; and Nicole Jones, 9th District.
Board member Dawn C. Page, 8th District, also voted against Ms. Gibson for board vice chair.
"As School Board chair, this is not a position that is an individual position. This is a team effort," Ms. Harris-Muhammed said in addressing her colleagues and the audience after taking over her new role. She said she appreciated the ask, as well as the personal cost to lead the board.
After the vote, several board members cautioned the new leadership about the need for collaboration internally as well as with city leaders and they move forward in directing Richmond Public Schools' goals and policies.
Ms. Jones said the perceived "us versus them" narrative of a divided board must end. An ideological schism among the board has resulted in split 5-4 votes on many issues, including control over the construction of a new George Wythe High School and efforts to work with city officials who hold the purse strings.
"As we work with our new leadership dynamic, we need to really stop with the board always being split," Ms. Jones said.
"If we are working together, that is what we are going to do" to benefit all RPS students and staff.
Ms. Page agreed.
"We are all here for the same purpose. We don't have to agree on everything. However, we do need to reach across the aisle, so to speak, to collaborate and create a common goal. We must listen to the voices of the minority as well as the majority."
Ms. Gibson said Monday night's vote indicated a change in board dynamics and approach.
"This is a critical time for the school district and the board," Ms. Gibson said. "I hope this will be a year where we see a difference in governance."
Other members also expressed hope for more unity, including Ms. Burke.
"I look forward to building on the foundation of leadership currently in place," Ms. Burke told the Free Press in an interview on Tuesday. "It is also important to listen to faculty and staff as they express their needs on behalf of our children."
She said under her tenure as board chair, "RPS did an awesome job of responding to what was needed during the COVID-19 pandemic. Students received Chrome books. Meals were distributed during the week, weekends and winter break," Ms. Burke said. Efforts led to days off for wellness and collective bargaining for teachers.
"The board's job is not micro-managing the superintendent. The role of the School Board is to support the district administration, as well as setting policy to improve district results in educating the whole child."
According to the administration's COVID 19 virtual update, posted on Jan. 6th, from December 18 through Jan. 5th, RPS has been notified of approximately 400 positive cases in students and staff that occurred at some point during that period.
Since RPS was not open during the holiday break, there was no opportunity for in-school transmission from the cases stated above.
Asked during the meeting about the reopening of schools last week during the new raging numbers of infection from the virus'omicron variant, RPS Superintendent Jason Kamras told the board about the pre-opening successful distribution of more than 8,000 at-home COVID-19 test kits, a new shipment of 25,000 additional kits for the "Test to Stay" program, as well as the availability in schools of more KN95 masks to reduce transmission.
More than 400 new positive cases of COVID-19 among students, teachers and staff were reported last week.
"There are vaccines available for everyone down to age 5, kindergarten and up. There are extensive mitigation strategies in RPS schools, which the data shows are working," Mr. Kamras said. "Our charge is to keep our doors open. I believe that is what the overwhelming majority of our students and families, teachers and staff want as well."