Deion Sanders wins Eddie Robinson Award; son wins Jerry Rice Award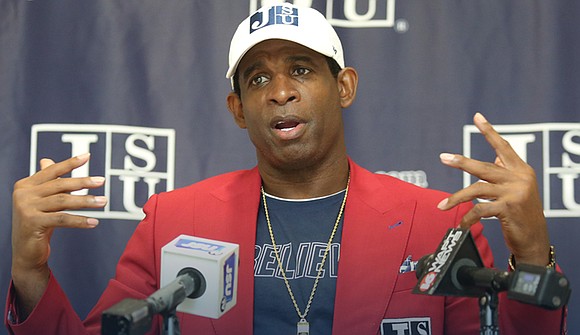 Coach Deion Sanders is going to need to clear more room in his family trophy case.
The second season head coach at Jackson State University was presented the FCS Eddie Robinson Award on Jan. 7 in Frisco, Texas.
The RobinsonAward, named after the legendary College Football Hall of Fame coach at Grambling State University from
1941 to 1997, is presented to the top coach on the NCAA Division I FCS level.
Coach Sanders' Jackson State Tigers won the SWAC Championship this past season while posting an overall 11-2 record. Jackson State lost to South Carolina State in the Celebration Bowl.
On the same stage on Jan. 7, Coach Sanders' son, Shedeur Sanders, was named winner of the Jerry Rice Award, which goes to the top freshman at an FCS school.
The young Sanders, a quarterback for Jackson State, passed for 3,231 yards with 30 touchdowns in his first college season.