Former local players on NFL Final Four teams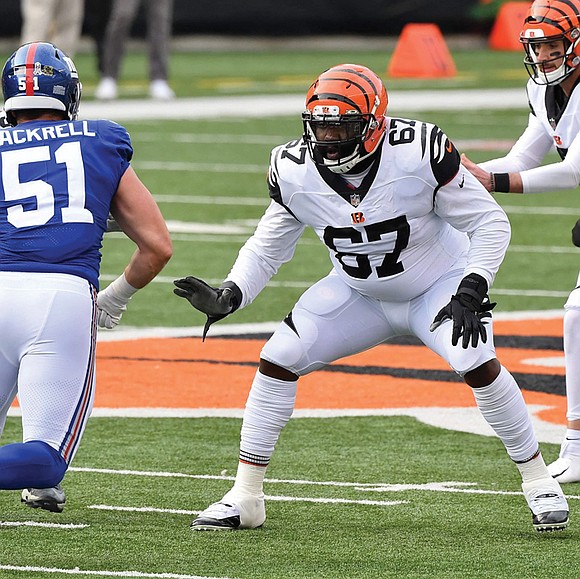 Protecting quarterback Joe Burrow is a top priority for the Cincinnati Bengals.
That's where Quinton Spain comes in.
The 6-foot-4, 330-pound offensive guard has been a Burrow bodyguard during the Bengals drive to the AFC championship game.
Spain, who wears a black, orange and white No. 67 jersey, played locally at Petersburg High and was known as much for basketball as football.
Un-drafted out of the West Virginia, Spain played with Tennessee and Buffalo before signing with Cincinnati in 2020.
Another player with local connections is San Francisco running back/kick returner Trenton Cannon who played at Virginia State University.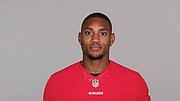 Unfortunately, Cannon suffered a concussion in Week 13 and has been placed on Injured Reserve.
The Washington Football Team has close ties to the 49ers and Rams.
San Francisco coach Kyle Shanahan was Washington's offensive coordinator 2010-2013.
Los Angeles head coach Sean McVay was Washington's tight end coach 2011-2013 and offensive coordinator 2014-2016.
Here's a peek at the Final Four:
Cincinnati Bengals
How they got here: 10-7 regular season; defeated ther Los Vegas Raiders, 26-19, and the Tennessee Titans, 19-16, in season playoffs.
Coach: Zac Taylor, third season
Quarterback: Joe Burrow (second season out of LSU)
Super Bowls: Lost in 1981 and 1988
Kansas City Chiefs
How they got here: 12-5 regular season; defeated Pittsburgh, 42-21, and Buffalo, 42-36, in playoffs Coach: Andy Reid, ninth season Quarterback: Patrick Mahomes (fifth season out of Texas Tech)
Super Bowls: Won in 1969 and 2019
San Francisco 49ers
How they got here: 10-7 in regular season, then defeated Dallas, 23-17, and Green Bay, 13-10, in playoffs
Coach: Kyle Shanahan, fifth season
Quarterback: Jimmy Garappolo, eighth season out of Eastern Illinois
Super Bowls: Won in 1981, 1984, 1988, 1989 and 1994
Los Angeles Rams
How they got here: Went 12-5 regular season then defeated Arizona, 34-11, and Tampa Bay, 30-27, in playoffs.
Coach: Sean McVay, fifth season
Quarterback: Matthew Stafford (13th season out of Georgia)
Super Bowls: Won in 1999.