A vote may soon come on George Wythe High School contract design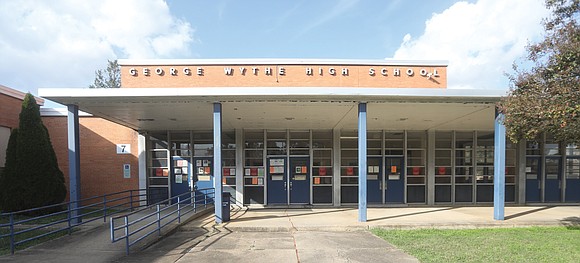 The Richmond School Board is poised to award a design contract for a new 1,600-student building to replace aging George Wythe High School in South Side, the Free Press has learned.
According to information the Free Press has received, Jason Kamras, the superintendent of Richmond Public Schools, has notified the board that an internal review of nine firms has been completed.
While he remains publicly mum about the choice, Mr. Kamras has notified the board that he is prepared to seek approval to hire the undisclosed winner to handle the design and development of the long-awaited new school, the Free Press has been told.
An award of the contract would, School Board members said on the condition of anonymity, keep the school on track to be under construction within a year and potentially be ready for opening for the 2024-25 school year.
The only hold-up: Money.
Richmond City Council has not approved Mayor Levar M. Stoney's request to transfer $7.3 million to RPS to pay for design services for the new school that virtually everyone agrees is desperately needed, including members of the govern- ing body, and that the Richmond Branch NAACP has declared "can't wait."
Monday, the council voted to send the matter back to its Education and Human Services Committee for further review and development of a recommendation, with a potential vote on the issue anticipated for the first or second council meeting in February.
Under state law, the School Board, not the city, is empowered to develop new school buildings.
And its readiness to proceed to hire a design firm is creating a dilemma for the council.
The governing body can either transfer the money or halt all action to replace the increasingly decrepit 62-year-old building until after the 2024 election for School Board members in hopes the winners would back the mayor's position. Waiting for the next election, however, ensures further delay.
The board's preparedness to move has already undercut previous claims from Mayor Stoney and Mr. Kamras that only the city could complete a new school by 2025 and that the School Board's decision to resume control of new school construction would add three years to the process.
The key issue that has halted transfer of design funds is how big to build the new school to replace the current George Wythe, which has a 1,400-student capacity.
Mayor Stoney, with support from Mr. Kamras, has stumped for a 2,000-student school that would cost an estimated $140 million, or at least $16 million more than a 1,600-student school.
Their claim is that the school, which currently enrolls 1,299 students and which council members have said has a daily attendance of fewer than 1,000 students, would enroll more than 1,600 students for the 2024-25 school year, leaving the school overcrowded from day one.
The new chair of the School Board, Dr. Shonda Harris-Muhammed, 6th District, has sought to reassure the council that over-crowding would not happen and that the board's decision to go for a slightly smaller school is based on realistic enrollment projections.
In a Jan. 21 letter to Council President Cynthia I. Newbille, Dr. Harris-Muhammed made that case. A full-time educator herself, Dr. Harris-Muhammed stated that the advocates for a 2,000-student school are relying on a 2019 enrollment analysis from a company called Cropper GIS that "wrongly predicted that for the current academic year 1,541 students would be enrolled, a variance of 243 students" from the current enrollment.
When that variance is taken into account, Dr. Harris-Muhammed continued, the revised projection for the 2024-25 academic year, "when the new George Wythe High School is scheduled to open, is 1,466 students, or 134 students less than capacity."
Dr. Harris-Muhammed also noted that "advocates for construction of a larger school would need enrollment at George Wythe to grow 53.9 percent to justify their claims for a 2,000-student building," a 701-student increase over the current enrollment of 1,299.
She also noted that Cropper GIS's 2019 figures also projected slow growth in the numbers of students entering RPS high schools from 2020 to 2029, a 10- year period.
The company projected just a 10 percent increase from the current high school enrollment or the equivalent of 667 students, Dr. Harris-Muhammed wrote.
To justify the larger replacement for George Wythe, advocates "would need enrollment at George Wythe to exceed" the projected total increase for all high schools in the city, she noted.
Dr. Harris-Muhammed also said that the school system is preparing to build a new career and technical high school inside a former tobacco factory in South Side that would absorb up to 1,000 high school students, lessening pressure on other schools, including the replacement for George Wythe.
In addition, she noted that "current capacity in grades nine through 12 across the city exceeds 8,000 seats, although only approximately 5,500 students occupy them," meaning about one-third are empty.
Whether such arguments are enough to persuade the full council remains to be seen.
Fifth District Councilwoman Stephanie A. Lynch, chair of the Education and Human Services Committee, has slammed the School Board for taking control of construction and advocated for the larger school.
Monday night, however, Ms. Lynch told her colleagues that she has spoken with Dr. Harris-Muhammed, and "I think we are closer to reaching an agreement."