Hampton University on the play list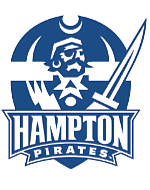 Many new schools are popping up on Hampton University's football schedule.
The Pirates have changed conferences three times since 1995, resulting in a significantly different list of opponents.
HU begins this season as a full-fledged member of the Colonial Athletic Association (CAA), which is headquartered in Richmond's West End.
Previously, HU competed in the CIAA from 1912 to 1995, in the MEAC from 1995 to 2018 and in the Big South from 2018 to this season.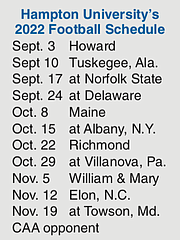 CAA opponents this go-round are Delaware, Maine, Albany, N.Y., Richmond, Villanova, William & Mary, Elon and Towson.
The CAA is a member of NCAA Football Championship Subdivision (FCS), the same as Big South and MEAC.
The Pirates, coming off a 5-6 record in 2021, will open against traditional op- ponent Howard on Sept. 3 at Armstrong Stadium. Next comes a home date Sept. 10 vs. Division II Tuskegee (of Alabama), then a trip across the Bay to longtime rival Norfolk State on Sept. 17.
After that, it's mostly opponents that may be unfamiliar to older HU fans.
However, starting in 2023, a sense of the past may return when HBCU North Carolina A&T will join the CAA for football.