Tracye Thompson aims for Dodgers victory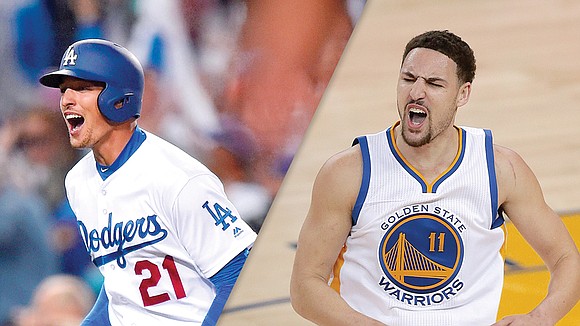 Klay Thompson, who helped the Golden State Warriors win the NBA title, may have competition for bragging rights at the next family reunion.
Thompson's younger brother, Trayce, is hopeful of being part of another championship in another sport in another city.
The 31-year-old Trayce is a right-handed power-hitting outfielder for the Los Angeles Dodgers, the team pushing for a second World Series crown in the last three years.
LA acquired the 6-foot-3 Thompson in a trade with Detroit last month after Dodgers' star outfielder Mookie Betts suffered a broken
rib. Betts has returned to the lineup but Thompson may have earned a more permanent spot. Also, another LA outfielder, Chris Taylor, is on the disabled list with a broken foot.
Celebrating July 4, Thompson blasted a three-run homer to help LA defeat Colorado, 3-1. He also is an excellent defensive player, capable of filling in at all three outfield positions.
The homer on July Fourth marked a home- coming of sorts for Thompson, who grew up near LA in Ladera Ranch, Calif. He was the Chicago White Sox's second round draft pick in 2009.
Well-traveled, he previously spent time with the White Sox, Oakland, Chicago Cubs, San Diego and Dodgers, along with several stops in the minor leagues.
He hails from an athletic family. Father Mychal is a former NBA standout, and his mother, Julie, is a former volleyball standout.
Mychal, who is Black, and Julie, who is white, met when Mychal was playing for Portland Trail Blazers and Julie was a volleyball setter for Portland State.
The couple's eldest son, Mychel, played basketball at Pepperdine University and briefly in the NBA with Cleveland.