The Rev. Robert W. Oliver Sr. remembered as a 'force for good'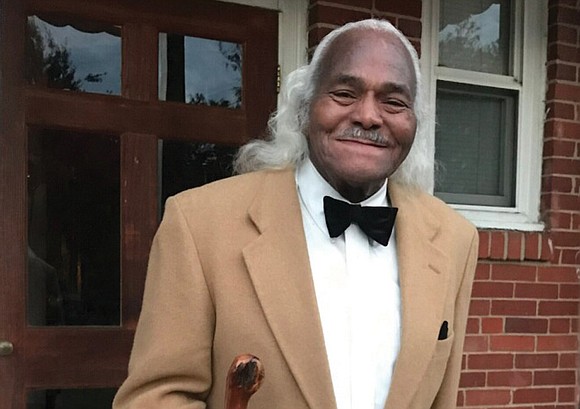 Faith, family and hard work shaped the Rev. Robert Wade "Bobby" Oliver Sr.'s life.
Rev. Oliver never pastored a church, but he preached the virtues he lived through a radio program and on the job.
Always dressed in a suit and tie, the Richmond native and U.S. Air Force veteran mentored dozens, if not hundreds of young men and women, during the more than 40 years he operated a cleaning service with his wife, Evelyn James Oliver.
"He was a force for good. He was always positive, always seeing the good and always helping others strive to be their best selves," said his daughter, Tracey Lee Oliver, vice president of administration for the Richmond Free Press.
"I knew early on that we had to share him with the community. He was not just our dad, he was the community's dad," Ms. Oliver said. "He promoted compassion, sought to instill in others the work ethic that propelled him and encouraged people to start their own businesses."
Rev. Oliver's personality and outlook are being remembered following his death Sunday, July 10, 2022. He was 88.
A memorial service will be held 2 p.m. Saturday, July 30, at Scott's Funeral Home Chapel, 115 E. Brookland Park Blvd.
Born in 1934 during the Great Depression in the Navy Hill section of Downtown, Rev. Oliver came from a family of working people, which led to him working and operating his own businesses at an early age.
By the time Rev. Oliver was 11, he was earning money by installing wallpaper in people's homes, his daughter said. He also worked at various times at a market on Sixth Street, at a life insurance company located on 10th Street and at a jewelry company, she said.
Meanwhile, he learned the shoe repair trade at Maggie L. Walker High School before graduating.
Rather than wait for the draft, he enlisted in the Air Force and served as a medic in the Korean War.
After his discharge and return to his hometown, Rev. Oliver worked at Fleming's Trucking where he was known as the "preacher man" because he always had his Bible and would spend down time preparing his Sunday School lessons for a class at First African Baptist Church, of which he was a lifelong member.
Later, Rev. Oliver became a salesman for Fuller Products, a Black-owned cosmetics company, after his mother, Georgia Wade Oliver Barron, became a manager for the Richmond area.
He always showed up in a suit and tie with his briefcase full of samples and catalogs in his hand. He maintained this same look throughout his life, though he later changed to wearing a bow tie, Ms. Oliver noted.
In the early 1960s, he married Evelyn James, and when their three children were old enough for school, he became actively involved, including serving as a PTA president, speaking at school assemblies and workshops and attending their band performances and extracurricular activities.
By the late 1970s, after their children were older, Ms. Oliver said her father and mother launched their cleaning business for homes and offices. With their slogan, "Honesty is our policy," the business thrived for four decades, only winding down when they were in their 80s.
Mrs. Oliver handled the inside while Rev. Oliver would wash the windows and clean the outside. He also would cut lawns and do anything else their clients needed outside. Always dressed up, he was well known for the station wagons he drove with ladders, lawn mowers and cleaning supplies stuffed in or tied down on the outside.
About eight years ago, after his children convinced him to give up climbing ladders and driving, he began working as a maintenance assistant for the American Civil War Center at Tredegar on the riverfront and at the White House of the Confederacy in his former Navy Hill neighborhood.
He continued until 2020 when the pandemic forced the closure of the museum's sites.
Outside of work, he was active at First African Baptist, where, along with teaching Sunday School, he sang in the Male Chorus, he served as a Deacon and briefly as the church sexton.
After he was ordained a minister through the church, though he remained a member, he started his own ministry he called, "I'll Listen."
For years, Rev. Oliver could be heard on a weekday morning show on WFTH-AM in which he offered positive messages, took calls from listeners and read their letters.
He also became known for his word of the day, "enthusiasm," which he would spell out and have listeners recite three times with him.
Rev. Oliver also annually played Santa when the Junior League of Richmond's Early Childhood Program Committee brought holiday cheer to children at the Robert L. Taylor Childcare Center in Church Hill.
He enjoyed reading, listening to opera broadcasts, writing poetry and making bread, becoming known for his "holy rolls."
Besides his wife and daughter, Ms. Oliver, survivors also include his son, Robert W. Oliver Jr., and daughter Robin Oliver Hill, his sister, the Rev. C. Delores O. Booker, and four grandchildren.
The family requests that memorial donations be made in Rev. Oliver's name to Oakwood Arts, 3511 P St., Richmond, Va. 23223, or to Virginia Union University's Dr. Ruth Coles Harris Leadership Institute, 1500 N. Lombardy St., Richmond, Va., 23222.