Personality: Martinez Kelley
Spotlight on board chairman of Atlantic Outreach Group
7/28/2022, 6 p.m.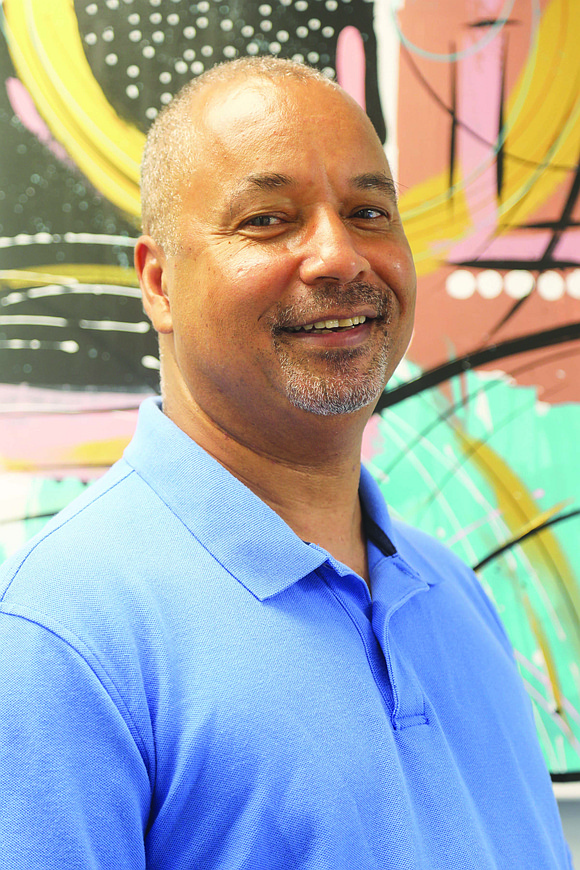 More than a decade ago Martinez Kelley saw the beginnings of the Atlantic Outreach Group, which eventually led to his path in community service.
As an associate of Kheila Jones, AOG's founder and executive director, Mr. Kelley saw her vision to create an organization that provides streamlined access to resources for the Greater Richmond area's most vulnerable population.
That vision came to fruition when Ms. Jones founded AOG in 2010, and today the organization works with marginalized communities to provide resources for employment, mental health and substance abuse referrals, financial literacy, life skills, affordable housing solutions and more.
The experience was something to behold, Mr. Kelley recalls.
"I remember how passionate and focused she was about bringing this vision to life," he says. "When approached with the opportunity to serve on the board, needless to say, I gladly welcomed the opportunity."
As chairman of AOG's board, Mr. Kelley helps guide its efforts amid ongoing change. In addition to working with the group, he runs his own business, Kelley Enterprises, a technical integration and installation firm.
Like many outreach groups impacted by the COVID-19 pandemic, AOG was required to make changes as it continued to serve the community. In response, the group created two programs — Fresh Start and a Food Pantry — to more effectively tackle issues with food insecurity, housing, mental health and substance abuse.
"We realized that the only way to affect change was to target all of these barriers simultaneously," Mr. Kelley says. "If a person is worrying about where they are going to lay their head or where the next meal is coming from, they are not making their mental health or sobriety a priority."
Mr. Kelley supports AOG's mission "to empower vulnerable communities by connecting them to resources necessary for their success." He also wants to raise awareness about the needs of populations served by AOG, while helping to "create a community of supportive networks that allows for continued support in the Greater Richmond area."
The first half of 2022 has brought unique challenges for AOG, with Fresh Start being significantly retooled. With high demand for the program and an effort to not rely on others for key aspects of their services, AOG shifted from outsourcing its housing to acquiring transitional homes. AOG also has opened a new day center and hired more staff, all of which requires more time and
attention for AOG's board and administrators.
For Mr. Kelley, these adjustments, while difficult, are necessary for AOG's growth and success. He also knows how important AOG's services are for those who receive them, whether through food bank donations or "graduations" from Fresh Start.
Working with AOG is a constant reminder of why he joined the organization years ago.
"We're definitely not getting smaller," Mr. Kelley says. "I definitely have the reach that I need to have to get things done, and help the company connect and grow."
Meet a local leader bringing aid to the vulnerable and this week's personality, Martinez Kelley:
Volunteer position: Board-chairman, Atlantic Outreach Group.
Occupation: Owner of Kelley Enterprises.
Place of birth: Columbus, Ohio.
Where I live now: Chesterfield.
Education: Staff sergeant for more than 10 years in U.S. Air Force. Graduate, Community College of the Air Force.
Family: Married with three children.
Atlantic Outreach Group is: A nonprofit organization that services the Greater Richmond area by connecting individuals to resources.
Mission: Atlantic Outreach Group strives to empower vulnerable communities by connecting them to resources necessary for their success.
When, where and why founded: Atlantic Outreach Group was founded in 2010 to provide viable resources to individuals re-entering society from incarceration in the Greater Richmond area. The organization quickly realized that the families of those individuals needed help obtaining the same resources as well. Through continued community outreach, we started to offer our resources to all vulnerable populations in the Greater Richmond area.
Meaning of name: The meaning behind the name Atlantic Outreach Group originated from us taking a grassroots approach to our outreach efforts. It was important for us to make genuine connections to those we serve and that wouldn't be possible without us building a presence in the communities we serve.
Describe support system/programs offered to individuals: We have provided marginalized communities with resources ranging from employment, mental health and substance abuse referrals, financial literacy and assistance, life skills, affordable housing solutions, transitional housing, scholarships and access to solutions for food insecurities. However, when the pandemic hit, we had to quickly align our organization to ensure we were meeting the needs of those we serve. We adjusted the services we offered to two programs that would best serve our communities in need. Throughout our years of servicing vulnerable populations, there were four common barriers we continued to encounter over the course of the past decade: housing, mental health, substance abuse and food insecurities. We realized that they only way to affect change was to target all of these barriers simultaneously. If a person if worrying about where they are going to lay their head or where the next meal is coming from, they are not making their mental health or sobriety a priority. This realization led to the creation of our Fresh Start program. This innovative 90 to180-day transitional housing program has allowed us to truly give our participants a chance at Fresh Start. The second program we offer is our Food Pantry. With one in every 10 individuals being food insecure, it was pertinent that we work diligently to make our Food Pantry more accessible to the public. Our Food Pantry offers three ways to get food out to those in need:
Pick up food from our main pantry location.

Visit us at the weekly mobile food pantry.

Request a delivery.
Our pantry is open to anyone needing emergency food Monday through Friday during normal business hours.
Example of a service recently given to help a family: We recently had our fifth class graduate from our Fresh Start program. They may not be considered a traditional family, but we work hard to foster a familial environment where everyone serves as a support system for one another. Seeing that class graduate and the look of accomplish and pride that they displayed was moving. These were changed individuals that were given a new lease on life. When you see them in person and hear their stories of gratitude and accomplishment, you realize the impact that we are truly having with those we serve. It only solidifies my connection to this organization.
Who is eligible for Atlantic Outreach Group's services and Food Pantry: Our pantry is open to anyone in need. Fresh Start: Our transitional housing program is available to individuals with mental health and substance abuse barriers.
What one volunteer can do: Our volunteers are amazing. They have stuck with us through the pandemic, which allowed us to increase our impact from feeding 100 individuals per week to over 600 individuals per week. We have several volunteer opportunities for delivery drivers, our mobile food pantry, and preparing bags of food for our communities.
Ways the pandemic continues to impact Atlantic Outreach Group: Our organization had to pivot rather quickly during the pandemic as we remained open throughout that time to ensure we were able to service those in need. We saw our greatest need for services over the past few years, so it was important to be able to continue to seamlessly provide much needed services during such a high time of need. Our food pantry prior to the pandemic was set up for in-person shopping. Individuals would be able to shop directly from our pantry, which allowed them the opportunity to pick the exact food items they needed. We had to adjust our shopping model and no longer offered in-person shopping once the pandemic happened. However, we were able to pivot and offer three ways to obtain food from our pantry: mobile food pantries, deliveries for individuals with transportation barriers or health barriers, drive-up for direct pantry pickups.
A hurdle Atlantic Outreach needs to surmount: A hurdle that we need to surmount is that we had a lot of vertical integration happening in the first two quarters of 2022 with our Fresh Start program. The demand for our program was high and we were no longer willing to put our outcomes in the hands of others. We went from outsourcing our housing needs to obtaining nine of our own transitional homes in six months. We also opened a new day center to accommodate our programmatic needs as well as hired an additional eight (8) staff members.
How to become involved with Atlantic Outreach Group: Depending on your interests you can volunteer with us through our Food Pantry or our Fresh Start program. We have had yoga instructors, artists, nutritionists and life coaches, just to name a few, to engage with our program. It means a lot to our participants to be able to expand their knowledge and skills through those that would like to offer their time and talents. We also have internship opportunities for college students. Last, but certainly not least, we are always looking for dedicated individuals to join our board. If you are interested in learning more about board opportunities, please email me at martinez@aog4u.org.
How to become a recipient of Atlantic Outreach Group's services: If you are in need of food, please contact our office to schedule an appointment for pick-up or delivery. You can also visit our website at www.aog4u.org/foodpantry to see where you can visit our weekly mobile pantry. For individuals interested in our Fresh Start program, you can give our office a call at (804) 308-2648 or complete our brief referral form at www.aog4u.org/freshstart.
A perfect day for me is: Spending time with my family.
What I am continuing to learn about myself during the pandemic: The pandemic shined a light on the importance of familial relationships. We sometimes take for granted that we will always be able
to reach out to our family and friends. I have family all over the country and the travel ban really hindered me being able to connect with my family and spend quality time together. Because of this, I truly learned the value of wanting to inspire those around me since I was unable to be with my family. For me, inspiring people to be the best version of themselves is the gift that keeps on giving.
Something I love to do that most people would never imagine: Even though most people know me to be a really tech savvy person, I also love to barbeque.
A quote that inspires me: It is never too late to be what you might have been.
My friends describe me as: Helpful and logical.
At the top of my "to-do" list is: Taking care of my family is at the top of my to-do list. They mean the world to me.
Best late-night snack: Popcorn or potato chips.
The best thing my parents ever taught me: You have the ability to accomplish anything if you put in consistent effort.
The person who influenced me the most: My father.
Book that influenced me the most: "The Richest Man in Babylon" by George Clason.
What I'm reading now: "Think and Grow Rich" by Napoleon Hill.
Next goal: Our next goal as an organization is to increase our impact as follows:
Food Pantry: Feed 1,000 individuals per week.
Fresh Start: Increase participant capacity from 60 to 88.