Players of color in MLB's All-Star Game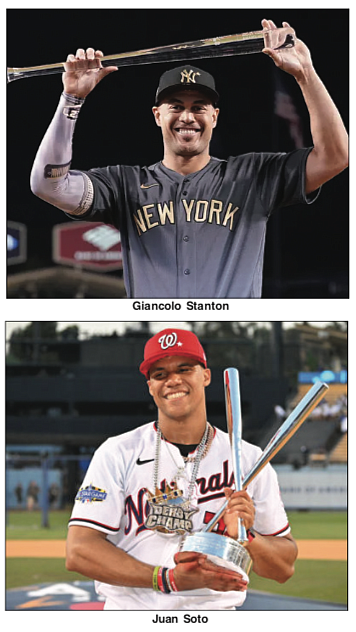 Along with all the usual pageantry, the 92nd edition of the Major League All-Star Game was a "colorful" occasion indeed.
Baseball in the U.S. is a clear majority white game on the youth, high school, college and even pro levels. That is until the bright lights come on at All-Star time for the Midsummer Classic.
Of the 62 All-Stars who took the field July 19 in Los Angeles nearly half were men of color. That includes seven African-Americans and 23 nonwhites born outside the U.S.
Athletes from the Caribbean stand out most. The Dominican Republic alone produces more all-star caliber players than any U.S. state.
The players of color didn't hide from the spotlight.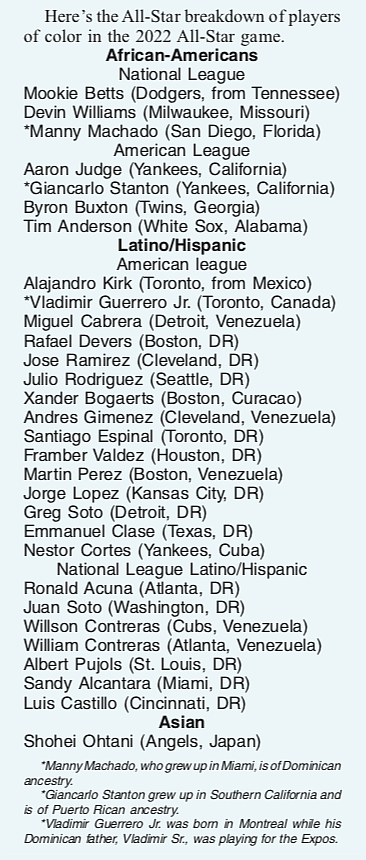 Washington's Juan Soto won the Home-Run Derby, defeating fellow Dominican Julio Rodrigeuz of Seattle in the final. Five of the eight Home-Run participants were Dominican.
In the main event, the New York Yankees' Giancarlo Stanton swatted a two-run home run that was the difference in the American League's
3-2 win. He was named MVP.
---
According to the Institute for Diversity and Ethics in Sport, 7.2 per- cent of Major League baseball players on 2022 opening day rosters were African-American. About 28.5 percent were Hispanic.
The NCAA reports that only 4.5 percent of college players are African-American. The percentage of African-American high school players in competitive programs would also be very low.
The most recent All-Star roster's makeup is not unusual. All-Star selections long have been disproportionately Black and Brown.
Since 1962 when Maury Wills became the first MVP, the All-Star MVP has been Black or Brown on 49 occasions.
---
Gazing ahead, a father-son MVP may be in works. In 2009 Tampa Bay outfielder Carl Crawford was the All-Star MVP.
On June 19, Philadelphia selected Carl's son, Justin, with the 17th overall selection in the MBL draft. The 6-foot-3 J. Crawford hails from Las Vegas and was timed at a Perfect Game camp in a blazing 6.11 for the 60-yard dash.
Speed runs in the family. Carl Crawford stole 480 bases (including six in one game), four times leading the American League.