Dance, jazz, theater and Prince highlight Festival of the Arts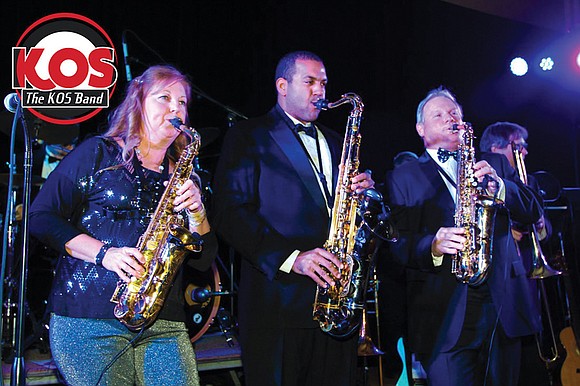 Two popular local bands will launch Richmond's largest lineup of free summer entertainment, including the annual Fourth of July festival and fireworks.
Legacy Band, an eight-member group that has been spreading danceable R&B, funk, soul and jazz music since 2015, will open the 65th edition of the Festival of the Arts.
Legacy will open 8 p.m. Friday, June 17, at the festival's home base, Dogwood Dell, the amphitheater in Byrd Park, and the show also will be livestreamed on Facebook.
They will be followed 8 p.m. Saturday by the 11-member KOS Band, which also performs danceable sounds of Motown, pop and classic rock 'n roll.
The festival will continue each weekend through August and wrap up Saturday, Sept. 10, with Afrofest, a celebration of African culture.
In addition, the Richmond Department of Parks, Recreation and Community Facilities (PRCF), which presents the festival, will spread it more widely, with a show each Thursday at a different park.
Weekend Plans, a funk, hip-hop, jazz and soul group will open the programming 6 p.m. Thursday, June 23, at Monroe Park. These performances will wrap up 6 p.m. Thursday, Aug. 25, at Battery Park with a show featuring the Richmond Police Department Band.
At Dogwood Dell, highlights will include a recital by the City Dance Theatre at 6 p.m. Saturday, June 25, and a three-night presentation of Neil Simon's "Barefoot in the Park" 8:30 p.m. Thursday, June 30, Friday, July 1, and Saturday, July 2.
The big Independence Day celebration will start 6 p.m. at the park on Monday, July 4.
The programs also will include a "Tribute to Prince" 8 p.m. Friday, July 8; a Latin Jazz show 8 p.m. Saturday, July 9, and the annual Gospel Fest with The Belle 5 p.m., Sunday, July 10.
The final two weekends in July will feature presentations of the Broadway musical "The Addams Family." Those dates are July 22-24 and July 29-31.
Plunky and his jazz fusion and funk group will be featured on the first Friday in August, which feature reggae, hip-hop and other genres.
Two big shows are planned for the final weekends: The Festival of Virginia Fiddling at 3 p.m. Saturday, Aug. 20, and the Latin Jazz Festival at 3 p.m. Saturday, Aug. 27.
Further details on shows: (804) 646- 3677, www.RVA.gov/parks-recreation and on the PRCF Facebook page, which also will offer livestreaming of some of the performances and announce cancellations, if any due to summer storms.