Six 'Strong Men & Women' recognized for leadership and lasting impact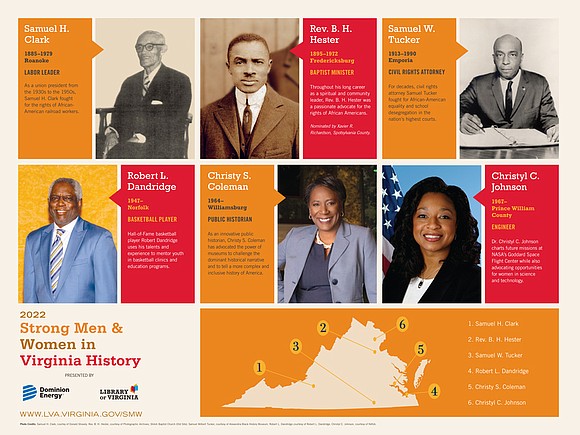 A union leader who fought for Black railroad workers, a self-trained civil rights attorney, and an advocate for women in science and technology are among six African Americans whose work will be honored by Dominion Energy and the Library of Virginia on June 16 at the Richmond Marriott.
Other honorees during the 10th annual "Strong Men & Strong Women in Virginia History" awards program include an NBA basketball star, a newspaper editor, minister and civil rights activist, and a public historian.
Since 2013, Dominion and the Library of Virginia have presented the awards to "honor prominent Africans Americans' noteworthy contributions to the Commonwealth, the nation and their professions."
"Through activism and rising to be leaders in their fields, these six honorees have uplifted and inspired," said Bill Murray, Dominion's senior vice president of communications. "Their leadership has provided an example for others, and their contributions have left positive and lasting impacts on society."
The awards ceremony also will recognize Virginia high school students who won the 2022 "Student Creative Expressions Contest." Winning entries included videos, spoken word, poems or essays that highlight past honorees.
Those winners are: Harmoni Townes, Varina High School, Henrico County; Thomas Patterson, Chesapeake Career Center, Chesapeake; Pia Wilson, Washington-Liberty High School, Arlington; and Ainsley Dunning, John S. Brittle High School, Bristol.
Suyapa Márquez, Dominion's senior community affairs representative, said this year's black-tie formal program marks a return to being in-person after last year's virtual ceremony.
The awards ceremony will take place at 6 p.m. at the Richmond Marriott Grand Ballroom, 500 E. Broad St. More information about current and past honorees is available at https://edu.lva.virginia.gov/changemakers/strong-mw/.
This year's Strong Men & Strong Women honorees are:
Samuel H. Clark (deceased), a Roanoke labor leader, was born April 11, 1885 and died June 25, 1979. He was hired as a brakeman by the Norfolk and Western Railway Company in 1913 and worked at the Roanoke yard for more than 50 years. Mr. Clark joined the Association of Colored Railway Trainmen and Locomotive Firemen and, by the 1930s, was president of its local union in Roanoke.
Elected in July 1939 as national president of the association, which later changed its name to the Association of Railway Trainmen and Locomotive Firemen (ART&LF), Mr. Clark trans- formed the primarily fraternal association to a union focused on improving the working conditions of African Americans. Despite having only about 1,000 members, the ART&LF joined lawsuits and even funded their own cases to fight discriminatory practices by railroad companies and unions that represented only white trainmen. Following Mr. Clark's 1943 testimony about Norfolk and Western's refusal to hire and promote African-American locomotive firemen and trainmen, the national Committee on Fair Employment Practices called for the company and the unions to cease their discrimination, although little changed. Similarly, U.S. Supreme Court rulings that upheld the rights of Black railroad employees in two 1944 cases that Mr. Clark's union helped instigate did not lead to immediate improvements because the decisions were not enforced.
Christy S. Coleman, a Williamsburg public historian, began working as a living-history interpreter at Colonial Williamsburg in high school. She quickly recognized how museums can help people appreciate the complexity of history beyond heritage and memory. Ms. Coleman has held leadership roles at the Colonial Williamsburg Foundation, the Charles H. Wright Museum of African American History, and the American Civil War Museum, in Richmond, where she oversaw development of its inclusive and complex interpretation of the Civil War. As co-chair of Richmond's Monument Avenue Commission, she guided often-contentious conversations about how to understand the monuments that memorialized the Lost Cause.
Since 2019 Ms. Coleman has served as executive director of the Jamestown- Yorktown Foundation, a state agency that operates two museums that explore the 17th-century confluence of American In- dian, European, and African cultures and the American Revolution.
Robert "Bobby" L. Dandridge, a Richmond native who now lives in Norfolk, was a star athlete at the city's Maggie Walker High School and at Norfolk State College (now Norfolk State University). He led the Spartans to the Central Intercollegiate Athletic Association title in 1968 and earned the tournament's Most Valuable Player award in 1969. That same year he was drafted by the National Basketball Association's Milwaukee Bucks. Playing the small forward position, he was named to the league's All-Rookie team in 1970. With future Hall-of-Famers Lew Alcindor (now Kareem Abdul-Jabbar)
and Oscar Robertson, Mr. Dandridge was part of the team's Big 3 that led the Bucks to their first NBA championship in 1971. Dandridge joined the Washington Bullets (later the Washington Wizards) in 1977.
Once again he played a leading role, along with future Hall-of-Famers Elvin Hayes and Wes Unseld, in capturing the team's only NBA title in 1978. Regarded as one of the best forwards of the 1970s and during his 13-year career, Mr. Dandridge was an All-Star four times and once named to the NBA's All-Defensive Team. He was elected to the Virginia Sports Hall of Fame in 1992 and to the Naismith Memorial Basketball Hall of Fame in 2021. After retirement Mr. Dandridge returned to Virginia and was an assistant coach at Hampton University, where he also earned a master's degree in counseling. Settling in Norfolk, he is renowned for his youth basketball clinics and continues to develop mentoring programs for youth emphasizing leadership, life skills, and education.
Rev. Dr. B.H. Hester (deceased) was a Baptist minister in Fredericksburg, a civil rights activist and a newspaper editor. Born Aug. 31, 1895, he died Feb. 13, 1972.
Rev. Hester graduated from Biddle University (later Johnson C. Smith University), in Charlotte, N. C., before earning a divinity degree in 1921 from Virginia Union University. He accepted a call from Shiloh Baptist Church (Old Site), in Fredericksburg, and became its pastor shortly after his ordination in May 1922.
Throughout his career, he advocated against voter suppression, lack of educational opportunities, and violence against African Americans in Virginia and nationwide. In his weekly newspaper, the Shiloh Herald, Rev. Hester called out the Richmond News Leader for its use of offensive language and secured a promise from its editor that certain words would no longer appear in the newspaper. Locally, he opposed city practices that discriminated against Black Fredericksburg residents. Unwilling to accept an unjust society, Hester fought segregation and discrimination while empowering his congregation to do likewise.
Christyl C. Johnson, an engineer who lives in Woodbridge, charts future missions at NASA's Goddard Space Flight Center while also advocating opportunities for women in science and technology.
Her interest in science grew while studying physics at Lincoln University in Pennsylvania. During an internship at the National Aeronautics and Space Administration's Langley Research Center in Hampton, Ms. Johnson worked on laser systems for remote sensing of the atmosphere. After earning a bachelor's degree from Lincoln in 1987 and a master's degree in electrical engineering from Pennsylvania State University in 1990, Ms. Johnson joined NASA as a lead engineer and project manager. At NASA's headquarters she managed missions of the Office of Earth Science before becoming deputy in the Office of the Chief Engineer.
After earning a Ph.D. in systems engineering from The George Washington University, in Washington, D.C., in 2012, Ms. Johnson became executive director of the National Science and Technology Council at the White House from 2008 to 2010. She now is deputy director for technology and research investments at NASA's Goddard Space Flight Center.
Samuel W. Tucker, (deceased) was an Alexandria native who was born June 18, 1913− and died Oct. 19, 1990. He read law with a local attorney after earning a bachelor's degree from Howard University in 1933, and was admitted to the Virginia bar a year later.
In August 1939 he organized one of the earliest sit-ins at the Alexandria Public Library in the struggle for equal rights. Mr. Tucker filed a lawsuit to end segregation there, but the city built a separate library for African Americans instead. After serving as a major with a segregated unit during World War II, Tucker relocated to Emporia, where he opened a law practice. By the mid-1960s he was a partner in the Richmond law firm of Hill, Tucker, and Marsh, which specialized in civil rights cases. As the Virginia NAACP's (National Association for the Advancement of Colored People) lead attorney for decades, Mr. Tucker tried scores of discrimination and segregation cases related to schools, teacher pay, and jury selection before local, state and federal courts.
Mr. Tucker sat on legal teams that litigated to reopen Prince Edward County's public schools when they closed rather than desegregate after Brown v. Board of Education (1954), as well as to end tuition subsidies for white students to attend private academies. He argued the landmark case Green v. New Kent County School Board, in which the U.S. Supreme Court ruled in 1968 that local school boards must immediately implement desegregation strategies. Mr. Tucker's continual battles for equal justice led to an unsuccessful attempt by white lawyers to disbar him early in the 1960s. He later received many accolades for his work, including a lifetime service award from the Virginia Commission on Women and Minorities in the Legal System.
Biographies in this article are courtesy of the Library of Virginia.