A helping hand is just a call away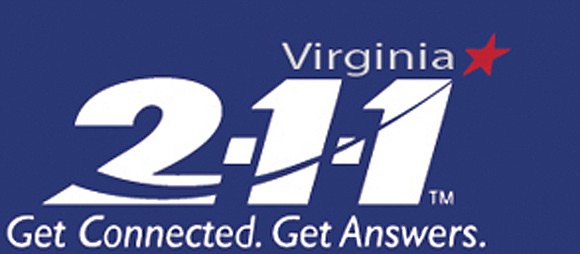 Need help with housing or utility costs? Want to learn about child care options? Looking for employment?
So many people say they don't know where to start to get the answers they need.
Good news.
The information you need or want is just a phone call or computer search away. And it is all free.
Richmond now has dueling services — 211 Virginia and Help1RVA— eager to let you know what is available and how to connect.
211 Virginia is the state-supported service that began as an area United Way information and referral service and went statewide in 2006.
It's as close as dialing 2-1-1 on any landline or cell phone. Or you can bring it up on your computer by putting 211 Virginia into your computer or your cell phone's search engine. Or you can text the word Connect to 247211.
By entering your ZIP code online or providing it to the operator or through text, you can learn about every program and service available to help meet your needs—ranging from basics like food, clothing and shelter to physical and mental health resources, employment searches, support and initiatives, programs for seniors, children, youth, families and the disabled as well as volunteer opportunities.
Help1RVA does the same thing, though it only available online and focuses on services in the city and neighboring localities. City Hall launched it in 2020 through its RVAStrong website initially as a way to help families find childcare and other educational services and support after public schools went virtual as a result of the pandemic.
It kept expanding and is now a regional information directory under the YMCA umbrella.
Just like 211, your ZIP code provides access to all the listings on Help1RVA.org to find assistance with food, clothing, shelter, transportation, housing and employment.
Help1RVA also provides a form online that allows you to submit your request and get contact with a person within 48 hours who can provide information directly.
U.S. Rep. A. Donald McEachin is now trying to get federal dollars back Help1RVA's efforts to become the region's primary social needs information service.
The funding he is seeking would enable YMCA to continue to be the backbone of Help1RVA and allow the City of Richmond to spend money on consultants to improve the program.