Commanders football team ends football training ties with Richmond
6/23/2022, 6 p.m.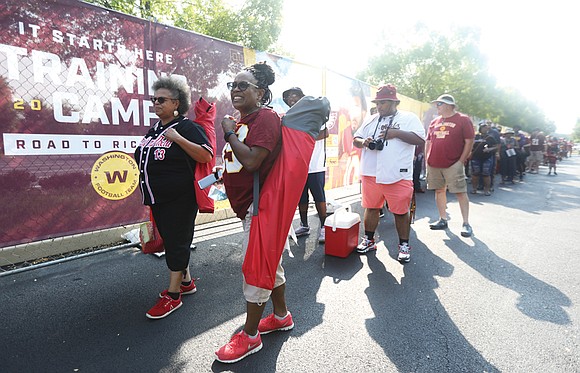 Richmond is no longer on the training camp schedule for the Washington Commanders.
Now facing an uphill climb to get any subsidy from Virginia's General Assembly to develop a proposed stadium-anchored complex in Prince William County, the Commanders have cut Virginia's state capital from its summer schedule.
The announcement the pro football team would train at its Ashburn headquarters in Loudoun County was issued June 16 after Free Press deadline.
Not unexpected, the decision ends a relationship between the team and the city that began in 2013 after the city teamed with Bon Secours to develop an $11 million combination training camp and health center on state property at 2401 W. Leigh St. near the Science Museum.
The team's coming to Richmond was in large part based on money. In an under-the-table deal that City Council never approved and sharply criticized after it became known, City Hall agreed to pay the team $500,000 a year to spend several summer training weeks at the location.
The team demanded the payment after the training camp was built in order to come, it was learned, and then-Mayor Dwight C. Jones and his administration felt forced to agree to ensure the team would come.
Mayor Levar M. Stoney declined to continue that deal after renewal talks began to extend the expiring eight-year contract that the city inked through its Economic Develop- ment Authority.
Last summer, the team paid the city $100,000 to rent the Bon Secours training facility for a week.
Three months ago, Ron Rivera, the team's head coach, indicated that the team was unlikely to do that again.
Financially, he said, it made no sense to "move everything to Richmond for a short, brief time" and then have to set up everything again in Ashburn for the rest of training.
The team plans to hold its annual Fan Appreciation Day on Saturday, Aug. 6, at its home field in Landover, Md. The session will be open without charge, as usual, although fans would need to go online to obtain tickets, according to the team's statement.
Those interested in attending the training camp in Ashburn also can enter a lottery for tickets, the statement continued, with more information to be released in the coming weeks.