Juneteenth events had something for everyone
Donald J. Adams | 6/23/2022, 6 p.m.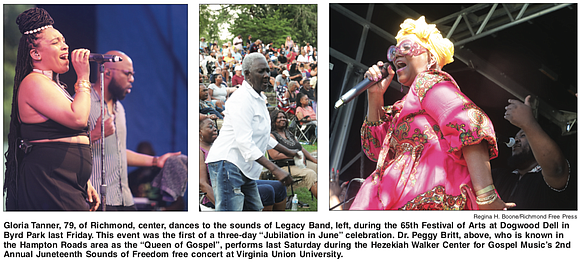 Richmonders celebrated the second official Juneteenth holiday with a four-day weekend of dancing, music, marches and several family-oriented activities.
President Biden declared Juneteenth as a federal holiday one year ago. The holiday marks 157 years since soldiers in Galveston, Texas notified former slaves that they were free on June 19, 1865, two years after slaves in other states were freed.
Communities throughout Richmond celebrated the holiday by highlighting African-American culture and the importance of freedom.
On Saturday, June 18, Henrico Recreation and Parks' festivities were held at Dorey Park where guests enjoyed performances by local actress Morgan McCoy and the Hermitage High School drumline. A play area provided entertainment for children, and local and regional vendors sold colorful art and jewelry.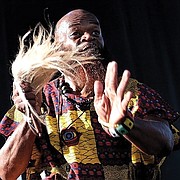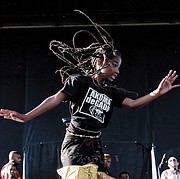 Kevin Duffy, a Richmond schoolteacher and first-time Juneteenth attendee, noted the significance of Saturday's gathering.
"My wife and I had COVID in January, so to come out here and celebrate something so significant is definitely refreshing," Mr. Duffy said.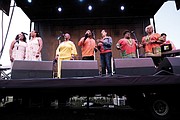 As they snapped photos and took in the festivities, Varina High School seniors Harmony Townes and Brayden Spears shared similar sentiments.
"To watch everybody, celebrate is amazing," Harmony said. "Juneteenth is great because it highlights everyone's [collective] experiences.
Brayden agreed, saying he "felt relieved" that these events were able to happen again.
The City of Richmond hosted a three-day "Jubilation in June" event at Dogwood Dell, the 17th Street Farmers' Market and Rocketts Landing.
Featured performers included the Legacy Band and the HamilTones, both R&B groups, along with local middle and high school students' theater presentation "Journey to Freedom."
Janine Bell, president of the Elegba Folklore Society, enjoyed Sunday festivities at Rockett's Landing, and said she believed the weekend was for "commemoration."
"The knowing of history is important, but the knowing of culture is the key to one's identity," she said.
Ms. Bell will continue celebrating Juneteenth on June 26 at the Richmond African Burial Ground at 101 E. Broad Street from 4 to 9 p.m. General admission is $5 with children under 12 free.