Architects for future George Wythe High gather comments, ideas from public
Holly Rodriguez | 6/30/2022, 6 p.m.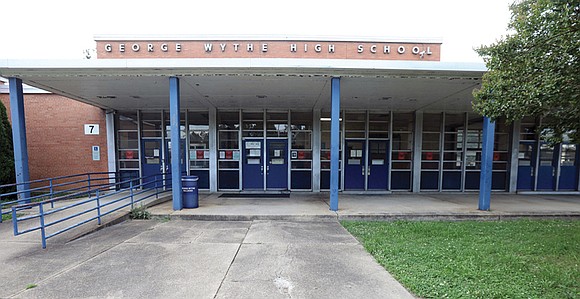 The idea of a new George Wythe High School is beginning to take shape, but a rendering shared with an audience of about 60 in the school's auditorium Tuesday night is only a starting point said RRMM Architect's president and CEO Duane Harver.
"STEM/STEAM and fine arts were being considered as themes for the design, and this rendering is based on a fine arts theme," and not yet fully customized to the specific needs of George Wythe, Mr. Harver said.
RRMM Architects is the firm in charge of designing the new school and the meeting was the kickoff to a series of four public meetings to get public input and suggestions on the design for the new school.
Dr. Erin Brown, director of Family and Community Engagement for Richmond Public Schools, said her department's goals for the project are for students and families to be informed and heard.
Chasity Rodriguez, South Side regional hub coordinator with RPS, said outreach that has already been conducted to get public input included student engagement activities, staff walking through neighborhoods to talk to residents, targeted events, speaking with advisory boards that included students, staff and teachers and more. A committee including parents, students, community members, RPS staff, board members and a school administrator will be created to work on incorporating feedback from the community into the design.
The firm shared a timeline indicating construction would begin in 2025 and the new facility will be completed and ready for move-in by 2026.
Mr. Harver walked the audience through every room of the rendering. Some new features that do not exist in the current building included a circular administration building, secure entrances and one cafeteria to replace the two existing ones. He repeatedly emphasized that the rendering is a draft, based on the request for proposals submitted by RPS, and that changes to the design were expected. In the spirit of transparency, the company plans to provide online tracking software that will enable the public to follow the design and construction process.
Audience questions ranged from general concepts, such as sustainability, to the more specific, such as storage and parking spaces for students and staff, and space to display alumni memorabilia.
Lakeisha Williams, a parent and teacher, had several questions for Mr. Harver, including the desire to maintain two cafeterias and green spaces for students.
Mr. Carver responded that the one, larger cafeteria would have a capacity for more than 600 students. The plan for the courtyard was to use artificial instead of natural grass to keep maintenance costs down. "But the courtyard is not yet designed — you tell us what you want to do and we will do it," he said.
He also said that the construction plan would include measures to meet LEED silver certification. LEED standards are established by the U.S. Green Building Council for sustainability measures to be followed. They require construction of the building to enhance individual human health, protect and restore water sources, promote sustainable and reiterative material cycles and more. LEED quality standards range from silver to gold to platinums with the latter reflecting the highest sustainability standards.
When asked about additional sustainability measures, such as solar panels for the building, Mr. Harver said the maintenance costs could be too high.
Jimmy Hart, football and track and field coach at George Wythe, expressed the desire that teachers and staff working directly with students be heard. "You need to have conversations with those here on the ground, who can see what is needed." He also asked about including a track and field area, not currently in the rendering, and said an outdoor basketball court is not a good idea.
"People in the community have used the outdoor basketball court before, left trash and destroyed the property," he said.
Monica Mclean, a librarian at George Wythe, asked about designated testing space. "Right now, students often go to the library for testing and the library has to be shut down" to other students, she said.
Mr. Harver said auxiliary space is incorporated into the current design.
The next community meeting will take place at RPS Summer Fest, Dr. Brown said. RRMM will give a presentation at the beginning and the end of the event. Summer Fest will be at George Wythe High School on July 23 from 11 a.m. to 3 p.m.