Askia Muhammad, dean of The Final Call editorial staff, dies at 76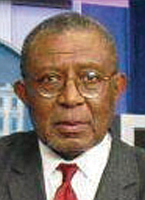 Askia Muhammad, a renowned journalist, photographer, poet and columnist who served as an editor of The Final Call, died Thursday, Feb. 17, 2022, at his home in Washington, D.C.
He was 76.
For more than 40 years, Mr. Muhammad was a fixture on WPFW-Radio in Washington and at The Final Call, the newspaper of the Nation of Islam. His columns also appeared regularly in Black-owned newspapers, particularly in Washington.
"Words are inadequate at this moment. So we just hold onto the vibration of love, truth, perseverance, hope and joy that Askia always exuded," WPFW officials said in a statement announcing Mr. Muhammad's death.
"Let us reflect on the beautiful legacy that Askia left us and how we can collectively carry forth the impeccable vibration of his spirit."
An author, Mr. Muhammad's most recent book, "The Autobiography of Charles 67X," featured a collection of photos, poetry and personal essays covering his life as a politically and socially engaged journalist.
Born Charles K. Moreland Jr. in 1947 in Yazoo, Miss., Mr. Muhammad attended college at San Jose State University. He later joined the Navy's Officer Candidate School before leaving to join Newsweek magazine as an intern in 1968.
He began attending meetings of the Nation of Islam in late 1968, and joined and received the "X" in his name in 1969, he said in a radio interview.
Early on, he wrote for the Muhammad Speaks newspaper and became one of its first Muslim editors. When Minister Louis Farrakhan, current leader of the Nation of Islam, started The Final Call newspaper, Mr. Muhammad became one of its first editors. As the newspaper grew, he became chief of its Washington bureau, a White House correspondent and senior editor.
His book, released in February 2018, included a never-before-released photo of then-Sen. Barack Obama and Minister Farrakhan. Mr. Muhammad told the Atlanta Journal-Constitution that he had agreed to withhold the photo because of its potential impact on the outcome of the 2008 presidential election.
Mr. Muhammad had taken the photograph in 2005 at a weekly Congressional Black Caucus luncheon where Minister Farrakhan had been invited to speak. Sen. Obama announced his candidacy for president two years later.
"I swore myself to secrecy," Mr. Muhammad, then 72, told the Atlanta publication. "If the picture was exposed, it could still be a deal breaker for Obama. I felt that there was an ambition that Black people had about Obama being elected president. I did not want to be the instrument of his downfall."
His long-running weekly program on WPFW, "Yardbird Sweets," included jazz programming and frequent appearances by Minister Farrakhan. In an interview with The Final Call, Mr. Muhammad said the show's name was taken from Charlie Parker's song, "Yardbird Suite," with the word "suite" changed to "sweets" to avoid any confusion.
In 1993, Mr. Muhammad received the Washington Association of Black Journalists' President's Award. In 2003 and 2004, he won first place in the National Association of Black Journalists' Salute to Excellence Awards for his commentaries on The Tavis Smiley Show that aired on National Public Radio.
In 2009, the Washington, D.C., City Council honored Mr. Muhammad for 40 years of news, world events and jazz programming benefiting his radio listeners.
"A great oak has fallen among us," said Hazel Trice Edney, editor-in-chief of the Trice Edney News Wire and president emeritus of the Capital Press Club. "The name Askia Muhammad had become synonymous with respected journalism long before I met him in person. Whether through his columns in Black newspapers or his comforting voice on WPFW, Askia had become known as a community servant, dedicated to racial justice for decades. He was warm, a perfect gentleman and fiercely dedicated to Black people."
A private service will be held with a memorial planned for a future date.