Faster legal sales of marijuana snuffed out; Black advocates cheer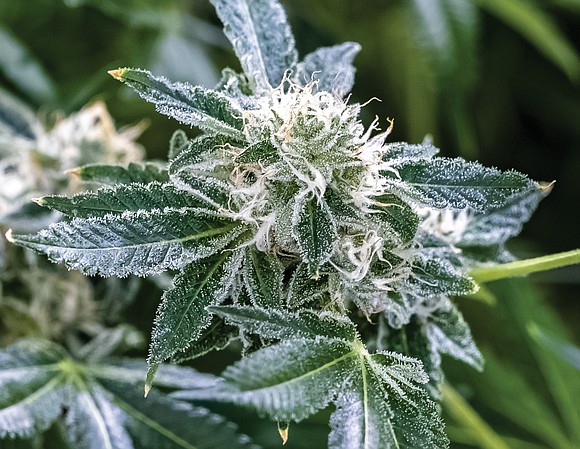 The rush to start legal retail sales of marijuana next September has been snuffed out.
With Black advocates cheering them on, five Republican delegates in the General Assembly halted Democratic efforts to push the start of sales to Sept. 15, or at least 16 to 20 months sooner than previously envisioned.
Legislation that passed last year called for legal recreational sales to start after January 2024 when a new state regulatory commission finalizes the rules and regulations.
The 5-3 party line vote earlier this week in the Republican-controlled House General Laws subcommittee essentially prevented the advance of the bill by Democratic Sen. Adam P. Ebbin of Alexandria to speed up sales.
That's just fine with a host of Black advocates and organizations who decried many elements of the legislation as a Democratic betrayal of their most loyal voting bloc, Black supporters.
It also put the advocates at odds with members of the Virginia Legislative Black Caucus, who helped push the Ebbin bill. One VLBC member, state Sen. L. Louise Lucas of Portsmouth, is a co-owner of a cannabis-focused retail shop in South Hampton Roads.
"Advocacy by many from across Virginia has been a solid undercurrent that led to the death of an inherently bad bill, a bill that was bad for Black families and communities across the state," according to the Rev. Lester D. Frye, a founding member of Today's Black Agenda and first vice president of the Baptist Ministers Conference of Richmond and Vicinity.
In a statement issued on behalf of the statewide Cannabis Equity Coalition of Virginia, Rev. Frye, founding pastor of the Healing and Living Waters Ministry in Richmond, stated that he and others in the coalition "are already planning for the work needed to help build 2023 legisla- tion that fully includes many who always seem to not be included in such impactful legislation."
Former Richmond City Councilman E. Martin "Marty" Jewell, chairman of CECVA, said that he and others who have pushed for Black inclusion in the potentially multibillion-dollar marijuana industry, opposed the Ebbin bill because it sought to advantage white-owned companies and leave out Black-owned businesses.
The Ebbin bill would have authorized the handful of state-licensed medical marijuana production and sales companies and 40 large hemp growers to pay big fees and open retail operations long before anyone else.
According to Sen. Ebbin's bill, the fees — $6 million from the licensed medical marijuana dispensaries and $500,000 apiece from the hemp growers — would have created an investment pool to provide grants to support the efforts of Black and Brown entrepreneurs, including ex-marijuana convicts, to launch start-up marijuana retail businesses.
Still, the early advantage to the handful of dispensaries and hemp growers did not sit well with CECVA and other groups.
"Allowing the big boys to buy their way to a more than one-year head start favors oligarchs and is obscene," Mr. Jewell stated.
He and other coalition members also expressed concern that only 30 percent of the sales tax revenue from marijuana sales would be earmarked to be invested in Black and Brown communities to "repair the damage from excessive enforcement."
CECVA has been pushing to increase the community investment share to 70 percent of collections from the special 21 percent tax the state plans to impose on marijuana sales, instead of allowing the lion's share to go to fund universal pre-kindergarten.
Chelsea Higgs Wise, in a statement on behalf of the Virginia CannaJustice Coalition, also hailed the House decision to snuff out the Ebbin bill.
"Cannabis equity advocates are encouraged that more time will be spent" in creating legislation that would provide for "a more equitable transition," stated Ms. Wise, executive director of Marijuana Justice.
Ms. Wise stated that the CannaJustice Coalition strongly opposed Sen. Ebbin's proposed language that would recriminalize possession of more than four ounces and less than one pound of marijuana as a misdemeanor, instead of retaining it as a civil offense subject to a small fine.
She and others in the coalition, including Kalia Harris, executive director of the Virginia Student Power Network, also were disappointed that Democrats did not use the Ebbin bill to support the CannaJustice push to ensure automatic re-sentencing of those serving time for marijuana possession offenses that are no longer crimes.
She called the Ebbin bill an "attempt to re-activate the Drug War."
"Legislating new crimes associated with the possession of marijuana is working backwards," the organization stated, and would continue to "empower racist policing," given that the largest number of arrests for previous marijuana offenses occurred in Black and Brown neighborhoods.
The coalition is supportive of a separate House bill that could open a pathway to resentencing of those convicted.
Like CECVA, Ms. Wise also condemned the Ebbin bill for attempting to "legislate a limited-access market to benefit oligopolies and exclude social-equity operators and small entrepreneurs," who are to include people formerly convicted for marijuana offenses.
Members of the Virginia Legislative Black Caucus have not responded to requests for comment on the issues raised by CECVA and CannaJustice.