RISC holds City Hall rally in effort to meet with mayor about gun violence
George Copeland Jr. | 3/3/2022, 6 p.m.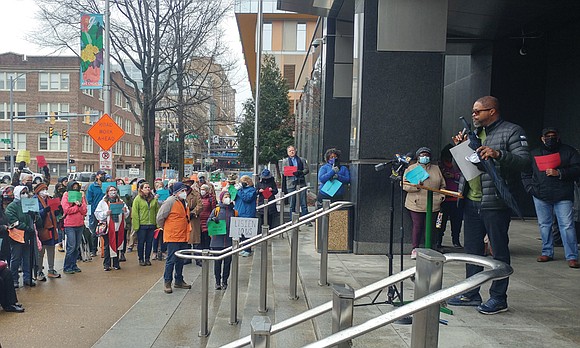 More than a hundred Richmond residents assembled outside City Hall last Friday, seeking to discuss their solutions to the rise in gun violence with Mayor Levar M. Stoney.
Calling out and carrying signs with the names of the 150 people who have been killed in Richmond during the last two years, the crowd hoped the mayor would be willing to hear their concerns about the recent gun violence prevention plan he outlined and be open to an alternative.
However, the group left City Hall disappointed but not dissuaded when they were unable to meet with Mayor Stoney.
"I just want the mayor to understand that the gun violence in the city has not ceased but has gotten worse, and that we need some type of structure," said Holly Gilliam-Shaw, a South Side resident who lost her husband and stepson to gun violence. "We need something new. We need to really address the issue behind the gun violence."
The rally, made up of religious groups, concerned citizens and community advocates, was organized by Richmonders Involved to Strengthen Our Communities, or RISC, which advocated for Richmond to consider a program first implemented in Boston in the 1990s called Gun Violence Intervention, or GVI. The program also has seen success in dozens of other cities since then. It utilizes a combination of social service groups and law enforcement to identify those with the potential of committing gun violence and employing intervention programs to redirect them away from that path and toward a better future.
RISC had brought up the program during past meetings with Mayor Stoney. Officials said they have sought for more than a year to meet again with the mayor, but have been rebuffed.
Eventually, the group sent a letter in early February with their intention to meet him at City Hall last Friday, even as the Mayor's Office confirmed that he wouldn't meet them.
"We are not going anywhere. We are not going away," said Rabbi Michael Knopf of Temple Beth-El. "The mayor can run and hide. As part of the GVI strategy, RISC is advocating that $25,000 be put toward a problem analysis to identify those most likely to commit or become victims of gun violence. RISC also is pushing for a two- year, $250,000 contract to implement GVI in Richmond through the National Network for Safe Communities, which has helped other cities create their own GVI programs.
"We need solutions that will stop the violence in the streets," said Don Coleman, RISC co-president and pastor at East End Fellowship. He said GVI works "because it's focused on preventing the next act of violence—not on solving the last one."
Mayor Stoney decried RISC's actions last week in an open letter to RISC leaders. He accused the organization of "bullying and intimidating public officials" and using "gun violence victims as pawns" in a wasteful effort that did nothing to advance solutions.
"If RISC is really serious about gun violence prevention, they will focus their energies on working with us in the community, not against us," Mayor Stoney said. "These efforts are not productive and bring us no closer to our shared goal of a safer city."
RISC has called on Mayor Stoney to attend its upcoming Nehemiah Action event on Tuesday, April 5, where the public will gather to seek commitments from public officials on furthering equity and justice in the areas of gun violence, affordable housing and health.