Chris Cheeks, former VCU standout and Boston College coach, dies at 54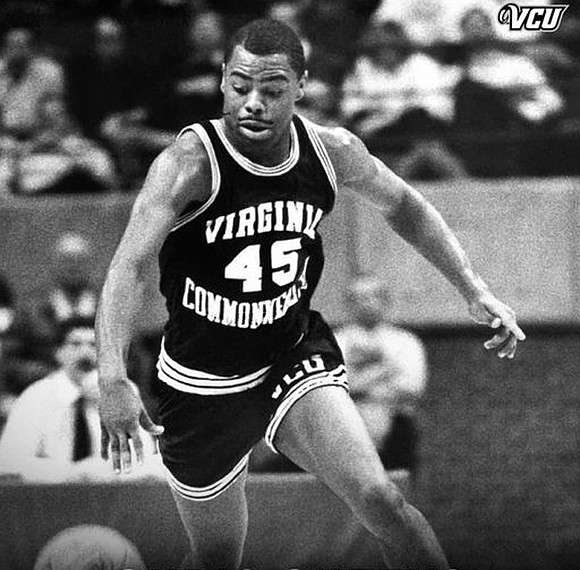 Chris Cheeks, among the most prolific scorers in Virginia Commonwealth University basketball history, died Wednesday, April 20, 2022. He was 54 and living in the Boston area where he was an assistant basketball coach at Boston College.
The cause of death was listed as an apparent heart attack.
A native of Washington, D.C., Mr. Cheeks played at VCU from 1987 to 1989 under Coach Mike Pollio. The 6-foot-4 guard scored 1,273 points in two seasons and still holds the VCU Rams' record for most points in a Division I game — 42 points against Old Dominion University in 1989.
Mr. Cheeks' career scoring average of 20.2 points is second only among VCU players to Charles "Jabo" Wilkins' 23.8 points average from 1968 to 1971. Len Creech averaged 21.9 points in three seasons with the RPI Rams and one with the VCU Rams.
As a senior, Mr. Cheeks averaged 24 points and led the Sun Belt Conference in scoring.
Before arriving at VCU, Mr. Cheeks scored more than 1,000 points in two seasons at Lon Morris Junior College in Jacksonville, Texas. He's among the few college players to accumulate more than 1,000 points at two different schools. He was recruited to VCU by Coach Pollio and Assistant Coach Eddie Webb.
Mr. Cheeks was so smooth and so efficient, he earned the nickname "Money" from his teammates.
Following graduation, Mr. Cheeks played briefly for a pro team in Portugal and on a traveling exhibition squad called Court Authority that defeated numerous Division I schools.
His career soon turned to coaching. Mr. Cheeks served as an assistant coach at VCU under Coach Sonny Smith, then at University of North Carolina-Charlotte, University of Delaware, Georgia State University, Western Kentucky University and University of West Virginia and most recently Boston College of the ACC.
Mr. Cheeks and his wife, Mona, have three children, Chris Jr., Brandon and Lauren. Brandon Cheeks became a standout basketball player at Meadowbrook High School in Chesterfield County.
Among Mr. Cheeks' VCU teammates were Vince Wilson, Lionel Bacon, Derek Thompkins and Phil Stinnie.
A highlight came in 1987 when Mr. Cheeks helped the Rams upset the University of Virginia 75-66 in the Times- Dispatch Tournament at the Richmond Coliseum.
Final tributes were paid to Mr. Cheeks during a memorial service held last Saturday at Faith and Family Church in Chesterfield County and at a funeral held Tuesday, May 3, in Washington.