Washington Nationals may be out front in diversity in MLB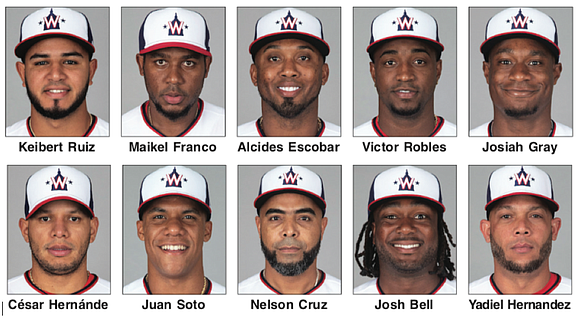 The Washington Nationals may be last in the National League East standings, but they're likely first in diversity.
On April 26, the Nats started an all non-white lineup, including the pitcher, that was comprised of ball players of color.
This is extraordinarily rare. Less than 10 percent of MLB play- ers are African-American and about 20 percent are Latino.
Here was Nats manager Dave Martinez's lineup against the Miami Marlins at Nationals Park:
• César Hernández, second base, from Venezuela
• Juan Soto, right field, Dominican Republic
• Nelson Cruz, designated hitter, Dominican Republic
• Josh Bell, first base, Irving, Texas
• Yadiel Hernandez, left field, Cuba
• Keibert Ruiz, catcher, Venezuela
• Maikel Franco, third base, Dominican Republic
• Alcides Escobar, shortstop, Venezuela
• Victor Robles, center field, Dominican Republic
• Josiah Gray, pitcher, New Rochelle, N.Y. (The pitcher does not hit.)
The Nationals lost that game 5-3. The lineup varies game to game.
On April 27, Lucius Fox started at shortstop for the Nats. Fox is among a handful of players to reach the big leagues from The Bahamas. Also on April 27, Lane Thomas, who is white, started in center field.
The battery of Gray and Ruiz came in a trade with Los Angeles last season that saw Max Scherzer and Trea Turner going to the Dodgers.
Records on such things are hard to find, but the first MLB team believed to start an all non-white lineup of African-Americans and Latinos was the Pittsburgh Pirates on Sept. 1, 1971.
Pittsburgh's lineup that day at Three Rivers Stadium read Rennie Stennett, Gene Clines, Roberto Clemente, Willie Stargell, Manny Sanguillén, Dave Cash, Al Oliver, Jackie Hernández and Dock Ellis Jr. pitching.