2 Richmond area basketball players may hit the court for Gonzaga next season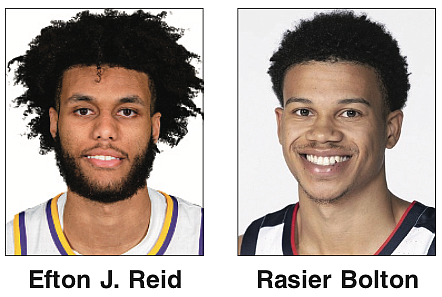 What are the chances?
Richmond is some 2,500 miles from Spokane, Wash., but it's possible two former area players will be suiting up for Gonzaga University basketball next season.
Efton J. Reid, a former standout at Steward School in Western Henrico, has announced he is transferring to Gonzaga from Louisiana State University. He will have three seasons of eligibility at the Jesuit school in Spokane.
There is a chance the 7-foot Reid will join Petersburg native Rasir Bolton on the Zags' 2022-23 roster. Bolton has declared for the NBA draft but has until June 1 to make a final deter- mination. Bolton's name is not showing up on any of the NBA Mock Drafts.
This past season, the 6-foot-3 guard averaged 11.2 points for the 28-4 Zags, while hitting 46 percent of his 3-point at- tempts. In four college seasons, Bolton has 1,495 points and 183 3-pointers.
Bolton, 22, played locally at Millwood School in Midlothian and had stops at Penn State and Iowa State before landing last season at juggernaut Gonzaga.
Reid, 20, averaged 6.3 points and 4.5 rebounds for LSU this past season, while starting 34 games as a freshman. He placed his name in the transfer portal following Tigers Coach Will Wade's dismissal due to "Notice of Allegations" by the NCAA.
Gonzaga reached the NCAA Finals in 2017 and 2021 and has been to 12 Sweet Sixteens since 1999. Coach Mark Few's squad was ranked as high as No. 1 nationally much of this past season.