True calling
Kiara S. Thompson, Richmond's Teacher of the Year, followed her heart and turned to teaching more than six years ago
Kiara Shenae Thompson was on her way to becoming a biologist and health care worker when she volunteered at a community center tutoring elementary and middle school students in science concepts and found what she considers her true calling — teaching.
"Just being able to help them and them saying to me, 'Oh my gosh, I wish you were my teacher,' let me know that I needed to go ahead and pursue teaching," she said.
"It's been so rewarding. I'm just so glad that I followed my heart," said the 31-year-old Henrico County native, who is starting her sixth year teaching eighth-grade physical science at Thomas Boushall Middle School in South Side.
Ms. Thompson's passion for education was celebrated last Friday when she got a big surprise — notification that she was selected as Richmond's 2022 Teacher of the Year.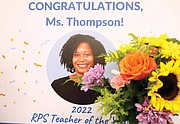 She learned she had won when Richmond Public Schools Superintendent Jason Kamras, Mayor Levar M. Stoney, other elected officials, family members and a gaggle of TV crews and news reporters invaded her classroom.
Ms. Thompson teared up as cheers rang out from her students and the assemblage.
"It was very exciting, very overwhelming. I couldn't believe it," Ms. Thompson said later.
Mr. Kamras had visited the classroom the day before to deliver a gift to Ms. Thompson for being a finalist for the honor. At the time, she said she thought the delivery meant she was a runner-up.
The superintendent said he was impressed with what he found.
"I could tell from the moment I walked into your classroom yesterday, and you saw it again today, that you love your students and they love you," Mr. Kamras said.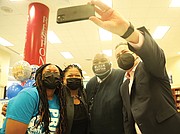 One of her students also offered a glowing testimonial.
Ms. Thompson makes "school a place that you want to be and science a subject you need to know," said Daquanna Jones.
The only middle school teacher among the five finalists, Ms. Thompson now moves on to compete in the upcoming Region One competition in a quest to earn state Teacher of the Year accolades.
Boushall Middle School Principal LaTonya Waller, who was state Teacher of the Year in 2011, has her fingers crossed that Ms. Thompson could be the second educator at the school to be tops in Virginia.
Richmond educator Rodney Robinson, who was the 2019 National Teacher of the Year and is now a senior policy adviser to Mr. Kamras, hopes Ms. Thompson can go all the way, too.
Whatever happens, Ms. Thompson said, "I will always cherish this moment."
Her mother, Monique Thompson, and sister, Ashley, a mental health counselor, were among those applauding.
"I'm so proud," her mother said.
School Board Chairwoman Shonda Harris-Muhammed, 6th District; School Board member Nicole Jones, 9th District; and state Sen. Joseph D. "Joe" Morrissey also took part in honoring Ms. Thompson.
Teaching at Boushall can be challenging for even the best of teachers. A major share of the students struggle to achieve classroom success, according to the data.
Ms. Thompson, who earned her bachelor's and a master's from Old Dominion University after graduating from Varina High School, said her hope is to be a role model and inspiration for young people.
"My students experience so much change. I want to be one of those positive things they have going on in their lives," Ms. Thompson said. "I want them to feel my classroom is a safe space for them, where they can be comfortable and engaged."
Ms. Thompson said she understands what many of the students are dealing with.
"A lot of the times, some will discount and discredit people, depending on where they live, the color of their skin and other factors," Ms. Thompson said. "None of those things matter
in terms of education or anything else really. We should really do our best to get everybody an equitable education."
Going forward, she pledged "to continue to uphold and educate my students and put our students at the center of all decision-making."