Ellalee Fountain Flowers dies at age 98
5/19/2022, 6 p.m.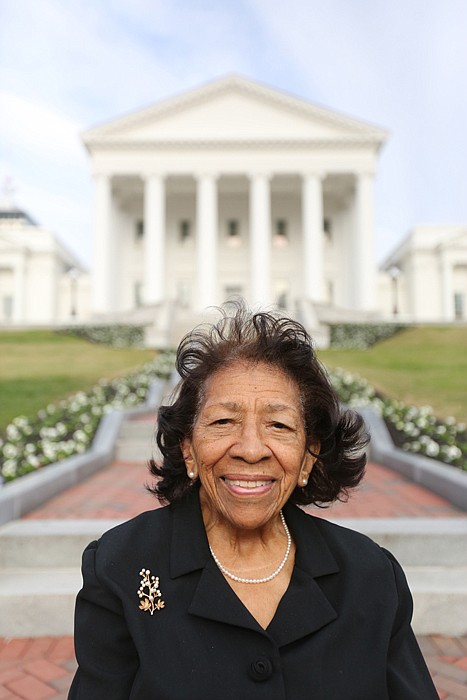 Ellalee Fountain Flowers, a former Virginia Union University and Richmond Public Schools educator, died on Sunday, May 15, 2022. Mrs. Flowers, who lived in Richmond, was 98.
She was born Nov. 16, 1923, the second of eight children to Hugh Lee Fountain and Mildred Woodson Fountain in Richmond. Shortly after birth her mother contracted her name to "Ellalee." She was born in the family home of her paternal grandparents, Mitchell Fountain and Ella Lee Fountain at 911 N. St. James St. in Jackson Ward.
Mrs. Flowers joined Ebenezer Baptist Church at an early age, where she was a member of the Girl Scouts. She graduated at age 15 in 1939 from Armstrong High School at the top of her class, and was selected Class Historian.
She then enrolled in Virginia State College for Negroes (now Virginia State University) in Ettrick, where she joined her older sister and best friend, Mildred. Both were initiated into the Alpha Eta Chapter of Delta Sigma Theta Sorority in 1939 and 1941, respectively. Mrs. Flowers graduated at the top of her class in 1943 with a bachelor's in business administration.
After graduation, she accepted a position in the president's office of Southern Aid Life Insurance Company, the largest Black-owned insurance company in the South.
While working at Southern Aid, Mrs. Flowers enrolled in the master's of education program a Columbia University in New York. Her coursework was completed in four summer sessions, all paid for by Commonwealth of Virginia, pursuant to the Dovell Act of 1935. Under the Dovell Act the tuition of Black students who sought terminal degrees was paid for out-of-state universities, rather than desegregate Virginia institutions. The Dovell Act lasted from 1935 to 1962. Mrs. Flowers gradu- ated in 1947.
In 1950, she wed Stafford Alvin Flowers and to that union, Jan Yolette and Gary Lamont were born.
Mrs. Flowers was an 80-year member of Delta Sigma Theta Sorority and an active member of the Richmond Alumnae Chapter, in which she was chairwoman of its Habitat for Humanity and the Political Awareness committees. She also was a lifelong member of the NAACP, and served as the secretary for the Richmond Chapter.
From 1945 to 1979, she taught business courses at Maggie L. Walker High School, retiring as head of the Business Department. In addition, she taught night school for adults, and instructed elementary students whom she affectionately called her "little people."
In 1979, she accepted a faculty position in the Sydney Lewis School of Business at Virginia Union University, from which she retired in 1987.
Mrs. Flowers was preceded in death by her husband. Surviving are her daughter, Jan; son, Gary; other relatives and friends. Remains rest at Scott's Funeral Home, 115 E. Brookland Park Blvd. A wake will take place Friday, May 20, at Ebenezer Baptist Church, 216 W. Leigh Street, beginning at 6 p.m. for the Delta Sigma Theta Omega Omega Service, followed by the National Epicurean ritual at 7 p.m. Her funeral services will be held 10 a.m. Saturday, May 21 at the church. Interment Monday, May 23, at 1 p.m. at Forest Lawn Cemetery. In lieu of flowers, please make donations to The NAACP Legal Defense & Education Fund in the name of Ellalee Fountain Flowers.