St. Christopher's Pulley is unguarded about choosing R-MC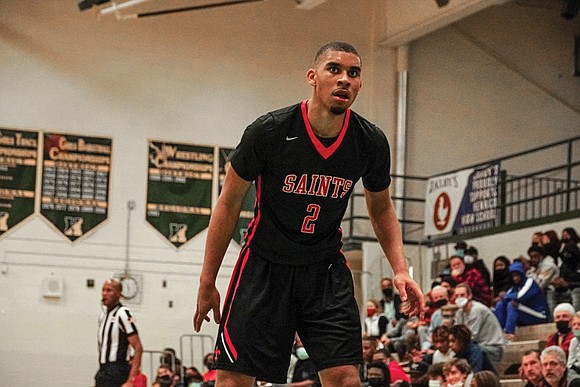 Keishawn Pulley Jr. watched from afar last season as Randolph-Macon College raced to the NCAA Division III basketball championship.
This coming season, he aims to be part of the show in Ashland.
Following a sparkling career at St. Christopher's School in Richmond's West End, the 6-foot-2 guard will soon join coach Josh Markel's nationally acclaimed Yellow Jackets.
Pulley won't have to put a lot of miles on his car since R-MC is just 19 miles north of St. Christopher's. He established a relationship with the school four years ago.
"Their (R-MC's) coaching staff had been talking to me since my freshman year ... I felt a connection," Pulley said.
R-MC went 35-1 this past season, while being led by the NCAA Player of the Year, senior guard Buzz Anthony.
"I'd like to fill Buzz' shoes, even though I know they're big shoes to fill," Pulley said. "But I think I can do it over a period of years."
Under St. Christopher's Coach Hamill Jones, Pul- ley was the Prep League Co-Player of Year, along with 6-foot-9 Carter Lang of St. Anne's-Belfield in Charlottesville.
A highly athletic guard, "KP" averaged 19 points, five rebounds, two steals and two assists, helping the Saints to a 16-9 record and to the Prep League tournament finals.
He shot 39 percent from three-point range, 64 percent from inside the arc (including a fair amount of dunks), and 78 percent at the foul line.
"Keishawn is a really good all-round player," said Coach Jones. "He can shoot it, handle it ... he passes well and defends. Also, he just has a feel for the game."
Pulley is the nephew of Stephen Lewis, the St. Christopher's assistant coach and a former standout at Henrico High School.
"Keishawn has been attending St. Christopher's games since he was little," Lewis said. "He came up rooting for St. Christopher's stars like Alex Petrie and Nick Sherod."
Pulley was set to be a St. Christopher's varsity starter as a ninth-grader, but was unable to compete much due to an injury. He enjoyed a stellar sophomore season, but his junior year was wiped out by COVID-19.
There was no holding him back as a senior.
There is a long-standing R-MC/St. Chris connection, perhaps dating back to Carl Koenig, who starred at R-MC in the early 1960s and later became the St. Chris coach.
As a group, St. Christopher's has been attending the R-MC summer team camps for several years.
"Keishawn has taken it as a challenge to help continue the success (at R-MC)," added Coach Jones.
The son of Shonda and Keishawn Sr. Pulley, "KP" grew up in Eastern Henrico County and went to John Rolfe Middle School before transferring to St. Chris as a ninth-grader.
Pulley's middle school opponents included Alphonzo Billups (a VCU signee) at nearby Fairfield Middle. Billups helped send Varina High School to the State Class 5 title this past winter.
Pulley saw two R-MC games in person this past season and kept up with the rest through newspapers and social media.
Now it's his turn to wear the lemon and black. Pulley wore No. 2 at St. Chris and already been assigned No. 3 at R-MC.
The band wagon is rolling like never before in Ash- land, and "KP" can't wait to hop aboard.