Personality: The Rev. Shay W. Auerbach
Sacred Heart Center's board president says the pandemic has been especially hard for Latino communities
5/26/2022, 6 p.m.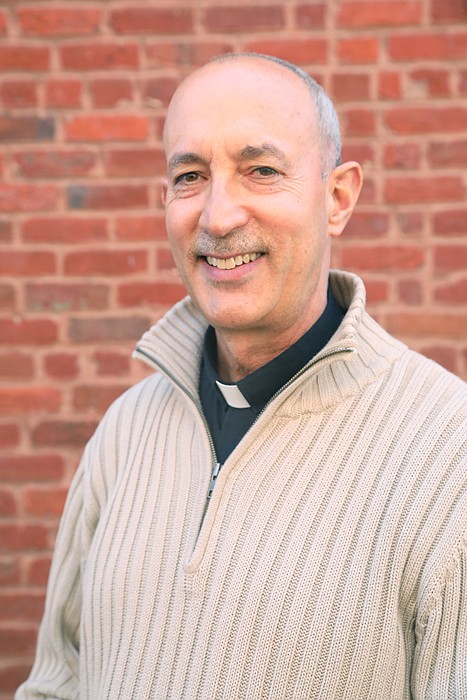 From the doors of the church to the streets of Richmond and beyond, the Rev. Shay W. Auerbach has been a tireless advocate for the city's Latino community for more than a decade.
As pastor at Sacred Heart Catholic Church and board president of the Sacred Heart Center, Rev. Auerbach was on the ground floor in responding to changing demographics that led the church to increase aid for South Richmond residents and other areas of the city.
In Rev. Auerbach's view, his time with Sacred Heart has paid major dividends for the community and, as part of the wider organization, his own personal goals.
"I had a dream when I came here," Rev. Auerbach says. "It used to be that at 6 p.m. the lights went off and everyone went home. I wanted to see our building used daily and into the evening so that people could acquire the tools and skills to flourish in their communities."
Today, he says his dream has been realized.
"We've done that and built up a whole organization and infrastructure that sustains that work. We've supported the community and built community along the way. I just try not to get in the way."
Originally from Hawaii, Rev. Auerbach began preaching at Sacred Heart in 2007, where most of the congregation are native Spanish speakers. He joined the Sacred Heart Cen- ter's board in 2008.
The church is the pastor's latest port of call for a lifelong career working with Mexican and Central American im- migrants as part of various
congregations and organiza- tions. With more than 20 years of experience as a priest, Rev. Auerbach brings experience and knowledge to every issue he tackles.
As board director for the Sacred Heart Center, Rev. Auerbach's duties include con- vening meetings and helping lead the board's mission. Like many nonprofits, the board works to ensure the center's fiscal sustainability and sound governance. He sees the group as a successful, integral part in the center's overall work.
"I think the board is doing well," Rev. Auerbach says. "We are a diverse group working hard to support our executive director to make sure she has what she needs — resources, guidance and a sounding board as she oversees Sacred Heart Center."
With the emergence of COVID-19, Sacred Heart's church and center were again forced to adapt, as Latinos have shouldered a particular burden during this time, he says. The impact of the pandemic included deaths and illness among pa- rishioners. Like many area churches, Sacred Heart also held virtual services.
COVID-19 also left some community members discon- nected from family living out- side the country who died from the virus. Others were unable to receive federal aid due to their mixed-immigration status. The work necessary to ensure Sacred Heart's stability as a result of these changes has been tough and continues to this day, says Rev. Auerbach.
"It was a really tough time for parish finances, but then the parishioners rallied and really helped us get back on a
healthy financial footing," he says, adding that work is ongo- ing to rebuild the community that has long identified with the parish.
In response to issues brought on by the pandemic, Rev. Au- erbach and others at Sacred Heart have supported those in need, with daily services running as early as 7:30 a.m. and ending as late as 10 p.m. The Center has fed more than 55,000 people through its food bank, about 4,000 have been vaccinated at their location, and more than $1 million in financial assistance has been provided to families since the pandemic started.
Rev. Auerbach believes that the past two years have provided the church and center new resources and skills that will help offset future challenges similar to those brought on by the pandemic.
"We try to be agile, so that when something happens, we can really adapt," Rev. Auerbach says. "That means we have to pay really close attention to the community."
Meet a religious and social advocate for Richmond's Latino community, the Rev. Shay W. Auerbach:
Volunteer position: Board president, Sacred Heart Center.
Occupation: Pastor of Sacred Heart Church.
Date and place of birth: Dec.16 in Honolulu.
Where I live now: Richmond.
Education: Punahou School (high school); bachelor's and master's, Georgetown University; master's degrees from Jesuit School of Theology, Berkeley, Calif.
Family: Mother, sister and ex- tended family live in Honolulu.
Sacred Heart Center is: A nonprofit community center affiliated with the Catholic Diocese of Richmond.
Mission: We connect Latino families with tools to thrive and flourish.
When and why founded: The center was founded in 1990 to serve families in the Bainbridge and Blackwell neighborhoods.
Where Sacred Heart Center is located: 1400 Perry St., Richmond.
Sacred Heart Center primarily serves: Latino families in the Richmond area.
How Richmond's changing demographics have impacted Sacred Heart Center and its mission: In 2011 Sacred Heart Center's mission shifted to address a growing and underserved community in Southside and wider Richmond area.
How Richmond government and nonprofits can improve services to Latino individuals and families: Listen to the Latino community. Partner with organizations that work with the Latino community, for example, churches, schools, and community organizations, especially those with Latino leadership.
Services Sacred Heart Center provides: Adult education, youth programming and a community hub that leverages our relationship with the Latino community with individuals and organizations that can and desire to assist the Latino community.
Number one goal or project as board president: To help the board create a culture at Sacred Heart Center where all participants recognize our shared humanity and are engaged in developing their talents and placing them at the service of others.
Strategy for achieving goals: Listening, reflection, dialogue.
Sacred Heart Center's biggest challenge: Sustainability — ensuring staffing, maintaining facilities, and securing resources to continue our mission.
Sacred Heart Center partners with: Several local nonprofits, churches and other faith-based organizations, along with consulates of various Latin American countries.
Ways to become involved with Sacred Heart Center: Come and see us. Schedule a tour, volunteer, find other ways to participate and support our mission.
Upcoming events: RVA Latino Festival, June 24-25 at our site.
A perfect day for me is: One in which I feel I made a mean- ingful difference in the life of someone else.
What I am learning about myself during the pandemic: Making time to spend with myself.
Something I love to do that most people would never imagine: I love to lap swim.
A quote that inspires me: "I do not at all understand the mystery of grace — only that it meets us where we are but does not leave us where it found us." — Anne Lamott
My friends describe me as: Having a good sense of humor and creative.
The top of my "to-do" list is: Straighten out my office.
Best late-night snack: A bowl of ramen or tacos al pastor.
The best thing my parents ever taught me: Respect others and learn from them.
The person who influenced me the most: My parents.
Book that influenced me the most: "Celebration of Discipline: The Path to Spiritual Growth." by Richard J. Foster.
What I'm reading now: "The Naked Don't Fear the Water: An Underground Journey with Afghan Refugees," by Matthieu Aikins
Next goal: Some time to travel the Silk Road.