Entrepreneurs host 'Wakanda Weekend' to support 'Black Panther' sequel, showcase Black excellence
Karyn Cook | 11/10/2022, 6 p.m.

Marvel Comics fans everywhere fell in love with "Black Panther," the 2018 superhero film based on the character of the same name.
Directed by Ryan Coogler, the film starred the late Chadwick Boseman (as T'Challa/Black Panther), Michael B. Jordan, Lupita Nyong'o and Angela Bassett.
A hit at the box office, grossing more than $1.3 billion worldwide and breaking plenty of box office records, the film garnered seven Academy Award nominations and walked away with three: for music, costume design (won by Hampton Uni- versity graduate Ruth Carter), and design production. "Black Panther" was the first superhero film to receive a Best Picture nomination, and the first Marvel Cinematic Universe film to win several categories.
This weekend, "Black Panther" fans are gearing up for another dazzling display of "Black excellence" as its sequel, "Wakanda Forever" hits theaters. Front and center will be a group of Richmond event organizers who will host a "Wakanda Weekend."
The organizers have booked three theaters at the Bowtie Theater on Arthur Ashe Boulevard, with an option to book a fourth, if ticket sales continue at the current momentum.
Richmonder Renee V. Johnson, one of the event organizers, said the team began planning the activities as soon as the sequel's release date was announced two months ago.
Excited about the positive Black representation and strong characters featured in "Black Panther," Mrs. Johnson, a graphic designer who enjoys bringing together talented people, wanted to showcase Black excellence found in everyday Richmonders and entrepreneurs.
The result, she said, will be an event "designed to create an immersive, cultural experience of Black excellence."
The two-day event also will allow local Black-owned businesses to shine a light on Richmond's positive and strong characteristics existent for decades, she says, and to clap back at perceptions that there's "nothing to do in Richmond," she says.
"Putting the planning committee together was very organic; we all are committed to the Richmond area and believe in the greatness that exists in this city we love," she adds.
"There are so many great things happening throughout RVA and by showcasing some of the businesses and programs that exist we highlight and underscore Black excellence."
Mrs. Johnson and another one of the event's organizers, Connie McGowan, reached out to George "Brak" Braxton, someone they know is passionate about "Black Panther" history and creativity, to help organize the event.
A lifelong "Black Panther" fan, Mr. Braxton hosted a similar event for the first "Black Panther" film and was excited by the invitation to collaborate on this year's celebration.
He remains in awe of Stan Lee, who created the Black Panther character.
"Imagine how it was received in 1966, when a white writer created a Black character who was faster, smarter, and better than his white counterparts. He and Jack Kirby were embracing 'Black Excellence' before we coined the phrase."
Listening to Mr. Braxton, it is clear that he is in tune with the new film's storyline.
"From the trailers, it looks like Wakanda is under siege and being controlled, which is something that the Black community is familiar with," he says.
(Mr. Boseman, to the disappointment of many, is not in the film. He died of colon cancer in August 2020 at the age of 43.)
"The movie is looking to be the best film Marvel has ever made, and will be even more memorable than the first," Mr. Braxton said.
Mr. Braxton says he is especially proud that many young children now have a superhero to look up to who looks like them. He hopes they will continue to watch the film for years to come.
"The Greeks have Zeus, the Norse have Thor, and we (Black people) have Black Panther," Mr. Braxton says.
Toni Blue, a member of the planning committee and owner of the digital design and apparel company, the BluePrint, designed T-shirts for the event. She is excited about the representation of women the film will feature.
"I think it's going to show how the Black family is matriarchal, the realization of that and how important it is to protect that," she says.
"It's going to highlight how women are capable of being leaders. We are not only nurturing and providers, but we are also protectors."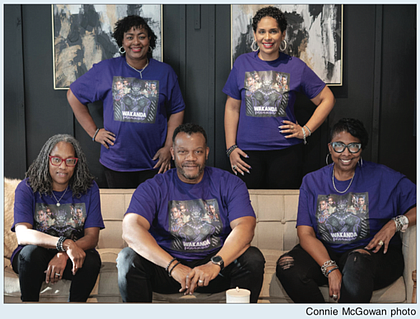 'Wakanda Weekend' lineup
The nearly one dozen Black-owned businesses that will be showcased during "Wakanda Weekend" on Friday and Saturday include dancers, artists, photographers, and business establishments, along with the Black History Museum and Cultural Center of Virginia, and Drums, No Guns, a nonprofit dedicated to gun violence awareness.
Admission to the private screening of "Black Panther: Wakanda Forever," on Friday is $35. The "Wakanda Weekend" passport includes a souvenir gift, discounted snacks, preferred entry for other weekend events, and a 5:30 p.m. dance performance by Ezibu Muntu African Dance and Heritage Foundation prior to the movie, according to event organizers.
Saturday will feature a lecture by Dr. Grace Gipson, professor of African-American Studies at Virginia Commonwealth University, at the Black History and Cultural Center of Virginia. Her topic is "A Journey to Wakanda: Telling Our Black Future Stories."
Also on Saturday, Justin Young, a graphic designer and artist, will host paint events featuring custom "Black Panther" portrait options at his Paint N' Sip space in Regency Mall.
The Lion's Den Cigar Lounge, BRUN Whiskey and Cigar Lounge, and Main Street Steakhouse will host parties after the movie screenings throughout the weekend.
In addition, Michelle Roane, owner of My Twisted Wrist jewelry, created a souvenir bracelet reminiscent of "kimoyo beads," as featured in the first "Black Panther" movie, along with "Black Panther" -themed accessories for Croc shoes.
Connie McGowan, owner of the House of Photography by Connie & Co. in Stony Point Fashion Park, hosted a photoshoot or the Wakanda Weekend planning committee.
Event organizers said donations will be made to all nonprofit organizations participating in the event.
For more information, please contact Brak Braxton at Brax.Braxton@gmai....