GOP wins slim House majority; Trump announces candidacy despite criminal problems
Eric Tucker/The Associated Press | 11/17/2022, 6 p.m.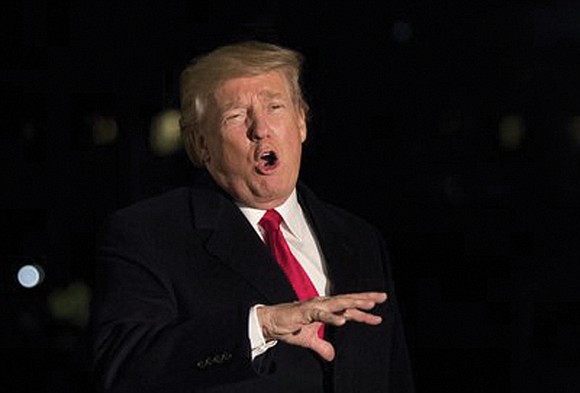 WASHINGTON - Republicans won control of the U.S. House on Wednesday, returning the party to power in Washington and giving conservatives leverage to blunt President Biden's agenda and spur a flurry of investigations. But a threadbare majority will pose immediate challenges for GOP leaders and complicate the party's ability to govern.
More than a week after Election Day, Republicans secured the 218th seat needed to flip the House from Democratic control. The full scope of the party's majority may not be clear for several more days — or weeks — as votes in competitive races are still being counted. But they are on track to cobble together what could be the party's narrowest majority of the 21st century, rivaling 2001, when Republicans had just a nine-seat majority, 221-212 with two independents. That's far short of the sweeping victory the GOP predicted going into this year's midterm elections, when the party hoped to reset the agenda on Capitol Hill by capitalizing on economic challenges and President Biden's lagging popularity.
Meanwhile, Donald Trump's early announcement of his third White House bid won't shield the former president from the criminal investigations already confronting him as an ordinary citizen, leaving him legally and politically exposed as he seeks the 2024 Republican nomination.
The Justice Department is pushing ahead with its probes. And with the midterm elections now mostly complete and the 2024 presidential campaign months away from beginning in earnest, federal prosecutors have plenty of time to continue their work even as Mr.Trump hits the campaign trail.
"I don't think the department is going to hesitate as a result of Trump nominating himself and anointing himself as the first candidate in the 2024 election," said former Justice Department prosecutor Michael Weinstein. "I just think they will see that as him trying to game the system as he's done very successfully in the courts," and they're prepared for his "blowback."
Mr. Trump enters the race facing federal investigations related to his efforts to overturn the 2020 election results and into the hoarding of top-secret government documents at his Florida estate — plus a separate state probe in Georgia. The Mar-a-Lago investigation has advanced especially swiftly, with prosecutors this month giving a close Donald Trump ally immunity to secure his testimony before a federal grand jury. Justice Department lawyers in that probe say they have amassed evidence of potential crimes involving not only obstruction but also the willful retention of national defense information.
It remains unclear if anyone will be charged, as does the timetable for a decision. But former officials say the best way to ensure the outcome is seen as above reproach is to conduct a by-the-book investigation showing no special favor or ill treatment because of Trump's former high office.
"The public will have the most faith in what you're doing, and you will get the most successful results, if you treat Donald Trump like any other American," said Matthew Miller, who served as Justice Department spokesman under former Attorney General Eric Holder.