Seattle's Rodríguez, Atlanta's Harris voted top rookies
Fred Jeter | 11/23/2022, 6 p.m.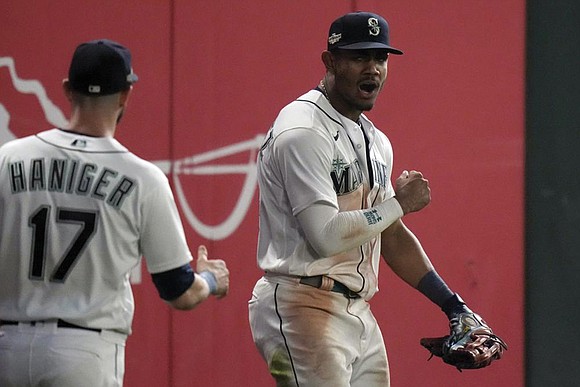 Athletes of color continue to dominate the headlines for Major League Baseball's Rookie of the Year voting.
The annual award is named after Jackie Robinson, who was the first Rookie of the Year with Brooklyn in 1947.
This year's recipients are Atlanta's Michael Harris in the National League, and Seattle's Julio Rodriguez in the American League. Both are fleet, 21-year-old center fielders.
Harris jumped from Class AA Mississippi to the parent Braves, and was an instant difference maker. The left-hander hit .297 with 19 homers, 64 RBI and 20 stolen bases.
A native Georgian, Harris was Atlanta's third-round draft pick in 2019.
Rodriguez, who signed with Seattle as a 16-year-old out of the Dominican Republic, hit .284 with 28 homers, 75 RBI and 25 stolen bases in his big-league debut.
The last six AL Rookies of the Year have been players of color: Randy Arozarena in '21, Kyle Lewis in '20, Yordan Alvarez in '19, Shohei Ohtani in '18 and Aaron Judge in '17.
In the NL Rookies of the Year were, Devin Williams in 2020 and Ronald Acuna in '19.
With Rodriguez the latest, the Dominican, a Spanish-speaking Caribbean Isle, has produced a disproportionate number of rookie winners.
The DR honor roll includes Hanley Ramirez, Angel Berroa, Albert Pujols, Rafael Furcal, Raul Mondesi and Alfredo Griffin, all since 1979.