VCU professor's documentary sheds light on Central State's darkness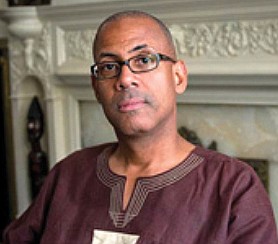 A new Richmond-made documentary will premiere this weekend with a view of the good, the bad and the ugly of mental health treatment for Black people in Virginia.
To tell the story, Shawn O. Utsey has focused his camera eye on the Central Lunatic Asylum for the Colored Insane, now known as Central State Hospital, the first mental hospital for Black people in the nation.
Well known for past documentaries exposing medical school's grave-robbing practices, oral histories of Black residents and an African burial ground in Richmond's Downtown, Dr. Utsey's latest work will be shown at noon Saturday, Sept. 10, at the Ada Gallery, 228 W. Broad St., as part of the Afrikana Film Festival.
A professor of clinical psychology at Virginia Commonwealth University, the 60-year-old academic said this is a project that friends urged him to do when he left Howard University to join VCU's faculty 18 years ago.
A former chair of African-American Studies at VCU, Dr. Utsey said the project became feasible as a result of Dr. King Davis, a professor at the University of Texas – Austin and a former commissioner of Virginia's mental health operations.
Dr. Davis led a 10-year effort to digitize 800,000 pages of paper records the hospital had accumulated after its founding in Richmond in 1870 in a former Confederate hospital in the Howard's Grove neighborhood in the city's East End, now known for the Mosby Court public housing community.
Dr. Utsey said the archive exposed the conditions and treatment of Black patients at the hospital that relocated to Petersburg in 1885.
He said until this hospital opened, Black patients were either housed in private asylums or in the basement of Eastern State Hospital, Virginia's first mental hospital. Before the Civil War, many of those sent for treatment were considered mentally ill for trying to escape their captivity.
His work includes interviews with some Black staff members who worked to change the white supremacist culture that was endemic in the white leadership, including the late Dr. Florence Farley, the first Black director of clinical psychology who later quit in protest over the treatment of patients.
The film also includes interviews with elderly Black women who once ran the food service operations and worked to upgrade the menu and patient nutrition.
Before drugs were readily available to treat mental illness, Central State often was a place where experiments with new treatments, including electric shock and lobotomies, were conducted, said Dr. Utsey. Black women also were sent to the hospital for state-enforced sterilization for allegedly being "feeble-minded."
He also documents the severe overcrowding, with more than 4,000 people crowded into space for 400 during the 1950s, but also seeks to record, as he has done in previous work, how those at the center of operations have worked to bring change.
Amid state planning for a $315 million replacement hospital, Dr. Utsey said he hopes the film provides insight to viewers about the past, present and future of an institution that has often been terrible to those it served but also sought to be a place of hope and recovery.