Local authority's outreach helps equity fund address health disparities
George Copeland Jr. | 9/22/2022, 6 p.m.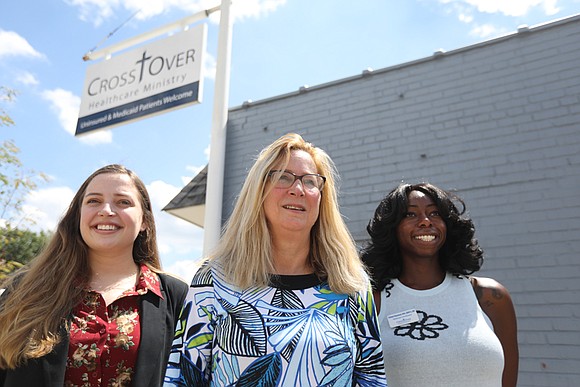 For the last two months, Jacquetta Gosier has worked to bridge the gap of mental health access for Richmond communities in need.
A clinician who recently began working at the Richmond Behavioral Health Authority, Ms. Gosier has brought her expertise and RBHA's services to community events at neighborhood resource centers across the city, enabled by the resources of the Richmond Health Equity Fund.
From weekly gardening classes in Whitcomb Court to canvassing neighborhoods in Hillside and Gilpin Court with other health workers, Ms. Gosier has become a new fixture for these communities. And judging from the response she received from those residents, it seems that the public is happy to help resolve long under-addressed health issues.
"I think it shows the populations we're trying to serve that we hear them," Ms. Gosier said, when asked about the fund's potential impact on the community.
"We see the disparities, we see that they have these needs, and we're listening and we're able to provide these services right here in their back door."
Ms. Gosier and RBHA's efforts are just one part of a larger push by the Health Equity Fund to address long-term health disparities that have become more prevalent during the COVID- 19 pandemic as Richmond, Virginia and the world continue to grapple with challenges brought on by the disease.
The $5 million Health Equity Fund was first introduced to the public in June, with $230,000 in grant money distributed to RBHA, CrossOver Healthcare Ministry and Nolef Turns, with the Richmond and Henrico Health Districts coordinating this effort. According to CrossOver and RHHD officials, before the initiative was unveiled, RHHD and the groups worked to create a project focused on community needs, activities, outcomes and needed resources.
Those resources ultimately determine how much funding is allocated to each group, with a major focus on addressing priority areas outlined in the Building Back Healthier section of the Richmond government's spending plan for money received through the American Rescue Plan Act.
"We are looking to fund programs that address the root causes of health disparities," said Catherine E. Long, public information officer for RHHD, in an email. "RHHD is interested in funding projects that are grassroots, led by people who are a part of the communities they serve, and that center on eliminating health disparities in their mission."
For CrossOver, which provides health services to minority patients in Richmond and Henrico County, the fund's $50,000 helps expand outreach and prepare ahead of a potential rise in COVID cases in the fall. The group plans to hire a bilingual registered nurse to help better educate and a 62 percent of the patients Spanish-speaking clientele.
Remaining CrossOver funding will be spent on COVID-19 tests, resolving challenges they've faced in this area since February, when federal reimbursement for their tests ended, leaving them unable to test uninsured patients without facing a financial toll. With over 4,200 tests, over 5,000 vaccines and 60 percent of their patients 12 years and older vaccinated to date, CrossOver's ability to continue this service is critical, according to Kaitlyn Peterson, a nurse manager.
CrossOver's project plan is being supplemented by multiple funding sources, which is why it received $50,000 instead of the $90,000 allocated to Nolef Turns and RBHA, but the Health Equity Fund is still seen as a key and welcome resource by officials.
"I'm really enthusiastic that we'll be able to meet the needs of Richmond residents," said CrossOver CEO Juile Bilodeau, who ac- knowledged the difficulty of predicting COVID trends. She sees the opportunity to work proactively through the fund as a net gain.
"Right now, based on what we think will happen, we're really blessed that this Fund will allow us to meet the need for PCR testing for the city of Richmond."
While CrossOver Healthcare's work with the Health Equity Fund remains a work in progress, as they are still interviewing potential hires, the RBHA's efforts have already seen results, with an increase in clinical assessments, outpatient therapy, consultations and more as she continues to provide mental health services through the fund.
"I think that we have a good starting point," Ms. Gosier said, "and as more individuals start to assess our services, we can get a better idea of what the immediate needs are, the general needs outside of what is already being provided."
On Wednesday, RHHD announced the new projects that will be part of the second round of the Health Equity Fund. Some $332,000 in funding has been granted to groups that include Birth in Color, Daily Planet Health Service, Healthy Heart Plus, OAR of Richmond, Urban Baby Beginnings and Waymakers. Their projects will be focused on health care access, community re-entry support following incarceration, food access and access to doula services.