Greening project at South Side church designed to reduce pollution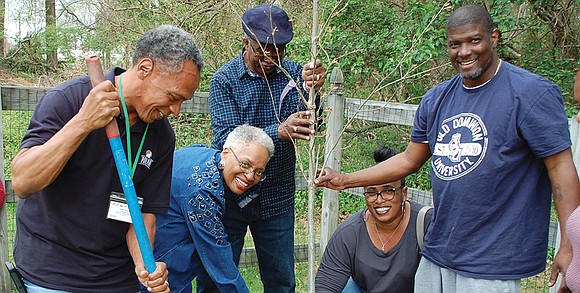 Nearly 50 trees are now growing in a portion of the parking lot of Branch's Baptist Church, 3400 Broad Rock Blvd. in South Side.
A historic church that traces its roots to 1814, Branch's undertook the groundbreaking effort to replace asphalt and concrete with trees as a partner in the "Greening Southside richmond Project." The Chesapeake Bay Foundation initiated the project with financial support from the National Fish and Wildlife Foundation.
The purpose of the overall project, according to the Chesapeake Bay Foundation is to reduce pollution and cool down the area. The work at the church represents one of the first and largest demonstrations of the greening project.
As initially reported in the online rVA Hub, the church worked with the Chesapeake Bay Foundation and its partners to remove 22,700 square feet of hard covering. The soil then was compacted. The soil that emerged was enriched over several months, with church volunteers working with professionals to plant the trees.
The planting space included 14,400 square feet of formerly unused asphalt for parking and 5,000 square feet previously occupied by a deteriorated basketball court, the foundation reported.
The remaining 3,300 square feet was developed within the well-used portion of the parking lot by removing the concrete barriers in front of spaces, the foundation noted.
The new plantings, the foundation stated, features a mix of trees, including black gums, Sweetbay magnolias, maples, oaks, pines, river birch and service berries. The river birch replaced the concrete barriers in the parking lot.