William U. Booker Sr., entrepreneur, civic and spiritual leader, dies at age 95
Hard-working, honest, wise, industrious, caring' were his trademarks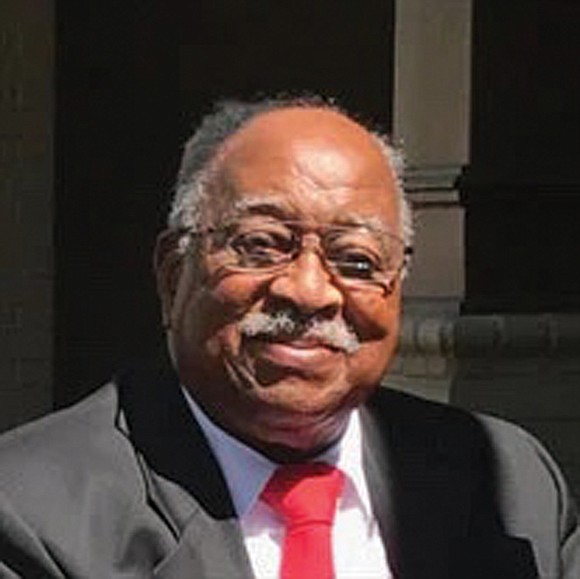 William Ulysses Booker Sr. sought to seize the opportunities that came his way.
As a teenager, he opened a shoeshine business for well-heeled business people on Hull Street to buff up their footware.
Later, while selling insurance, he noticed that people in his neighborhood had no place to buy fish. He responded by buying a building near the intersection of Hull Street and Midlothian Turnpike and opening Quick Drive In Seafood, that he operated for 27 years.
He initially planned only to offer raw seafood. But he added prepared lunches and dinners of fish, crabs, shrimp, oysters and clams after his soldier son called and told him that seafood stores in Washington, D.C., offered cooked food for customers.
Described as a man of faith and drive, Mr. Booker also helped launch Koinonia Christian Church in South Side that his now deceased wife, the Rev. Marjorie Leeper Booker, pastored. Mr. Booker's other initiatives included starting a civic association for residents and business owners, and assisting his wife with voter registration drives.
A life long resident of South Side, Mr. Booker is being remembered for his contributions to the community following his death at age 95 on Thursday, April 20, 2023.
Family and friends will celebrate his life at noon Tuesday, May 2, at March Funeral Home, 2110 E. Laburnum Ave., it has been announced.
His three children said he lived his faith, ticking off the virtues he embodied.
"Hard-working, honest, wise, industrious, caring and innovative. If he gave you his word, you could take it to the bank that he would keep it."
Born in 1928, Mr. Booker had to travel across the river to Maggie Walker High School on North Side because there was no high school for Black students south of the James River.
After earning his diploma, he added a certificate in religious studies from the Evans Smith program in Virginia Union University's seminary.
Before graduating from Maggie Walker, he started the shoeshine business in a shed-style building located near the corners of Cowardin Avenue and Hull Street.
"He had four or five chairs. He had one and other young men would pay him a fee to offer service in the other chairs," said his son, William U. Booker Jr., a retired manager for Du Pont and former city manager of Atlantic Beach, S.C.
Mr. Booker Jr. said his father gave up the business and went to New York, but returned after a year.
Before opening his seafood store in 1969, Mr. Booker worked as a mail carrier, a salesman for North Carolina Mutual and as a manager for a South Side pawn shop.
When Mr. Booker Sr. added prepared meals, his son recalls his parents started cooking with a "frying pan on a stove. They later added a deep fryer."
He founded the Hull Street-Midlothian Civic Association that still represents the Swansboro West neighborhood. He also served two terms on the Richmond City Planning Commission, was a member of a City Charter review committee, and sat on a city welfare advisory board.
He helped his wife in her voter registration work for the Richmond Crusade for Voters and later campaigned for his unsuccessful bid for a seat on City Council.
After selling the seafood business around 1997, Mr. Booker returned to his business roots when his brother-in-law, Robert Leeper Jr., asked him for help. Mr. Leeper had a mobile shoeshine business and had a contract to operate a shoeshine stand at the airport.
Mr. Booker managed the airport shop for nearly 20 years before a stroke forced him to retire in 2017. "It was more than shining shoes," said daughter Phyllis Booker Hendrick Bell, who taught math for 44 years for Richmond Public Schools. "It was a chance to talk to people and share the love of Jesus."
Mr. Booker also was a member of Hobson Lodge No. 23 F&AM.
In 1983, Mr. Booker joined with others to start Koinonia Christian Church in the 3600 block of McRand Street near Southside Plaza. His wife, one of the first female pastors in Richmond, led the church for 33 years. She died in 2011.
Survivors include two daughters, Jacqueline Booker Walker, a retired state employee, and Mrs. Bell; his son, Mr. Booker Jr.; eight grandchildren; 20 great-grandchildren; and one great-great grandchild.