Pregnant woman sues Detroit, police officer after arrest involving facial recognition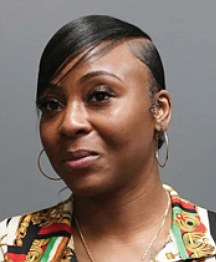 LANSING, Mich. - A Detroit woman is suing the city and a police officer, saying she was falsely arrested when she was eight months pregnant and accused of a carjacking based on facial recognition technology that is now the target of lawsuits filed by three Black Michigan residents.
Porcha Woodruff, 32, was preparing her two children for school on Feb. 16 when six Detroit Police officers showed up at her house and presented her with an arrest warrant for robbery and carjacking, according to a lawsuit filed in U.S. District Court for the Eastern District of Michigan on Thursday.
"My two children had to witness their mother being arrested," Ms. Woodruff said. "They stood there crying as I was brought away."
Ms. Woodruff's case was dismissed by the Wayne County Prosecutor's Office in March for insufficient evidence, according to the lawsuit.
The lawsuit states that Ms. Woodruff has suffered, among other things, "past and future emotional distress" because of the arrest. Ms. Woodruff said her pregnancy already had multiple complications that she worried the stress surrounding the arrest would further exacerbate.
"I could have lost my child," Ms. Woodruff told The Associated Press in a phone interview.
Ms. Woodruff was identified as a subject in a January robbery and carjacking through the Detroit Police Department's facial recognition technology, according to a statement from the office of Wayne County Prosecutor Kym Worthy. Detroit detectives showed a photo lineup to the carjacking victim, who positively identified Ms.Woodruff.
The American Civil Liberties Union of Michigan is now calling on the Detroit Police Department to end the use of facial recognition technology that led to Ms. Woodruff's arrest. It is the third known allegation of a wrongful arrest by Detroit police based on the technology, according to the ACLU.
Robert Williams, a Black man, who was arrested when facial recognition technology mistakenly identified him as a suspected shoplifter, sued Detroit police in 2021 seeking compensation and restrictions on how the city uses the tool.
Another Black man, Michael Oliver, sued the city in 2021 claiming that his false arrest because of the technology in 2019 caused him to lose his job. Critics say the technology results in a higher rate of misidentification of people of color than of white people. Ms. Woodruff's lawsuit contends that facial recognition has been "proven to misidentify Black citizens at a higher rate than others," and that "facial recognition alone cannot serve as probable cause for arrests."